It's a wrap! The 2017 IDF World Cup ended and Women's class reached historical new levels.
For the first time ever Emily Pross finished on the TOP 10 in OPEN category and won the North America Championship, male & female.
Scroll down to see how each one of these women gave their best through the whole Eurotour, finishing with the last race of the season in Vermont, USA. We selected some of the best photos from each race and are stoked to see so much radness, determination and smiles through the whole course of the 2017 world championship. Enjoy!
King's Gate
Hinterstoder, Austria was the first host of the IDF Eurotour between 13th – 16th July. This stunning and challenging road is located in the middle of the Austrian Alps.  A total of 21 ladies competed in Women's Class, and 12 of them competed as well in Open Class. Stoked to see so many big smiles!
Results King's Gate 2017:
1st – Emily Pross
2nd – Lyde Begue
3rd – Paloma Dorado Acha
4th – Anna Pixner
——————————
Kozakov Challenge
The Czech Republic classic held in Kozakov had 24 women competing from all over the world setting the trackroad on fire. This was the IDF race that had more ladies racing than any other during this year's Eurotour. 21 of the 24 female riders also competed in Open class.
This video of the finals is fire!
Results Kozakov Challenge 2017:
1st – Emily Pross
2nd – Cassandra Duchesne
3rd – Anne Poursin
4th- Melissa Brogni
——————————
Verdicchio Race
This track is described as one of the most technical ones in Italy and it's located in the beautiful Poggiocupro, Ancona. This second edition had 14 women competing.
Results Verdicchio Race 2017:
1st – Lyde Begue
2nd – Melissa Brogni
3rd – Cassandra Duchesne
4th – Giulia Bottazzin
——————————
Teolo
The last IDF race of the Eurotour was Teolo in Padova, Italy. Had 18 riders competeing in Women's Class and 12 in Open.
Results Teolo 2017:
1st – Emily Pross
2nd – Melissa Brogni
3rd – Lyde Begue
4th – Jennifer Schauerte
---
Killington
The last race of the season was Killington, held on an access road to Kilington Ski Resort in the mountains of Central Vermont, USA. This track is one of the fastest with speeds reaching upwards of 68mph / 110kmh on skate and 81mph / 130kmh on luge. 8 women competed on this race.
Results Killington 2017:
1st – Emily Pross
2nd – Cassandra Duchesne
3rd – Sabrina Ambrosi
4th – Candy Dungan
With these results Emily earns the 2017 Women World Champion tittle and makes history as the first woman to ever finish in the TOP 10 of OPEN category and becomes the 2017 North America OPEN champion.
Don't miss Emily's solo run reaching 104 Kmh / 65 Mph. Worth to watch at least a couple of times.
The 2017 Women's World Ranking Results as follows: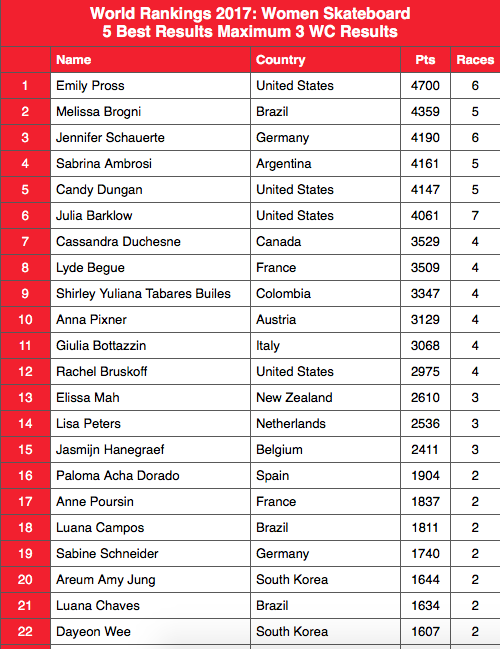 Such an exciting season! 47 riders from 23 different countries competing for the gold, the rush and the fun. Each season new records are set and moldes are being broken. Thank you to all the amazing women who do what it takes to get to the races (not easy!) and give their best. Thank you to all the companies that support us and thank you to everyone who follows our adventures. Thank you IDF for another season and thanks Marie for the great job you do with the IDF Women account.
Until next season!