Duchess Ride is a new, all-girls non-profit based out of Vail Valley, Colorado. Founded by a group of women with rebellious spirits, altruistic hearts, and a lofty ambition:
to inspire all girls to work together to progress in every aspect of their lives.
The girls behind Duchess Ride have got what it takes to DO MORE.  With two local fundraisers under their boards, these girls are prepping for the final Tenacious Trick: a 300 mile skateboarding trek from Santa Barbara, CA to the Mexico Border.  Families & friends, sponsors, and individuals are invited to meet up and skate with them at any point during the trip.
Duchess Ride's mission is to cultivate tenacity in young women through participation and progression in board sports.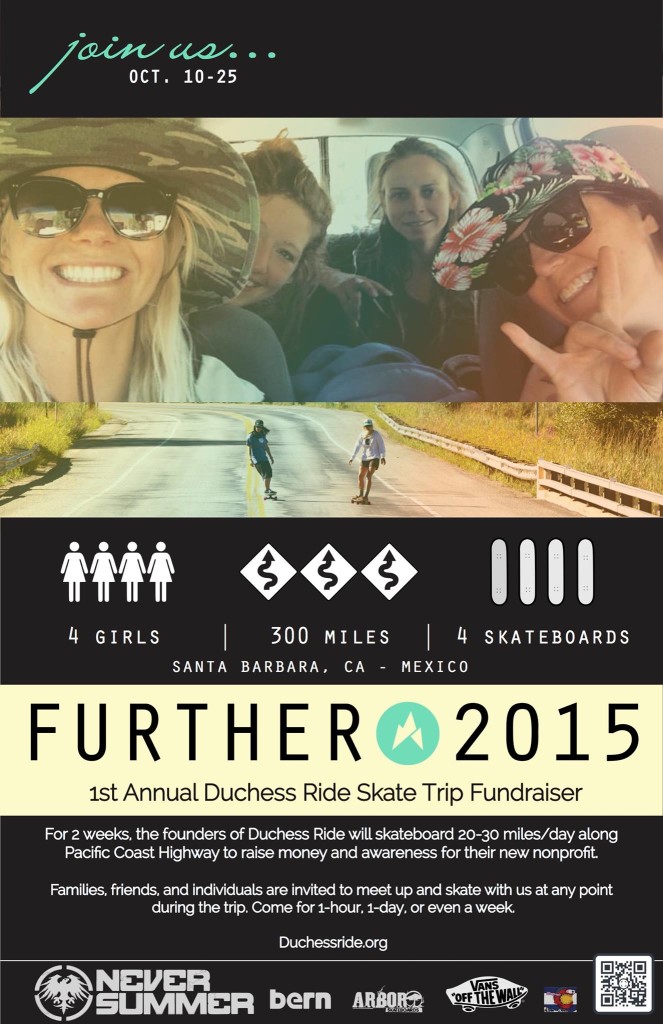 The motivation to start something significant came when the founders got together on a chair lift in the Vail Valley during a radical day of shredding. While discussing their past and future paths, the founders realized that what they are experiencing now is simply not something they had growing up. There was a lack of empowered women to look up to and to receive advice and guidance from. The Duchess Ride women are looking to fill that role.  
Their pilot program begins this winter (2016) on Beaver Creek mountain. There will be 2 sessions, each spanning 6 weeks. The program will incorporate mentorship and board progression, one day a week on snow, and one off.  The target age group is 10-12 year old girls who are currently boarders, with no restrictions on skill.  Hopes are that with the success of the pilot season on snow, Duchess Ride will be ready to implement the mentor program in summer 2016 for two more sessions incorporating surfing and skateboarding.
There seems to be a buzz these days about female skaters in their 20's wanting to get a new, younger generation of girls on boards. Duchess Ride believes that this generation of women is finally discovering their voice and an understanding that they can do anything they put their minds to, including the tough stuff.  But it is just the beginning! The four founders of Duchess Ride dove into the idea of this "buzz" and developed the lessons they want to teach to the younger generation of girls: that, "you can start something new, hard, scary, and continue to progress no matter where you come from and how old you are."
Duchess Ride consists of all snowboarders, two of which  surf and one that skates. These titles though, don't mean much to Duchess Ride. They are the first to admit their lack of skill outside of snowboarding, but also first to recognize that it won't take long to fix, "sucking at something is the first step to being sorta good at something." (Adventure Time)
The idea behind the 300-Mile Skate Trip is to embody the building blocks of our program.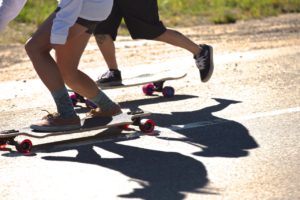 Their program is based on three progress-oriented attributes: tenacity, creativity, and crewistence, a word they coined to go beyond our common understanding of team. "We knew we wanted to do something that scares all of us individually but that we could accomplish together. Trust me none of us could make this happen without the others.  It sounds hard but we have been training 3 times a week and with the support from each other and a tenacious attitude I think we got this!" -Claire from Duchess Ride.
"Girls that are tenacious are girls that are willing to fight for their dreams… and what'smore important than following your dreams?" 
Anyone can help support Duchess Ride and if you're looking for an upcoming adventure, skate PCH with them for one mile or 300, from Santa Barbara to the border of Mexico starting October 10th.
There are numerous ways you can help out ranging from passing out flyers, to skating, and or spreading the word. 
If you'd like to become a fundraiser for Duchess Ride, please email info@duchessride.org or visit our website at www.duchessride.org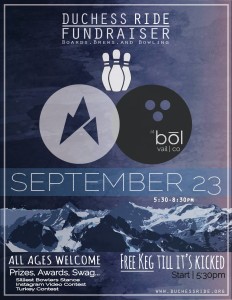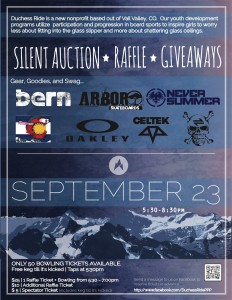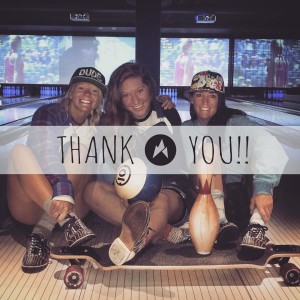 Duchess Ride is so grateful to the local Vail Valley Community, including individuals, companies, and other non-profits (SOS Outreach, Vail Valley Youth Foundation, and Girl Powher), whom have been gracious in donating and supporting Duchess Ride's fundraising efforts around town. Sponsors include Never Summer Industries, Arbor Skateboards, Bern Unlimited, and Thule. 
The 300 mile skate trek is their opportunity to raise the funds needed to launch their upcoming 2016 mentor program.  If you'd like to join them for the skate or donate please visit www.duchessride.org 
If you or your company would like to support Duchess Ride please contact jaime@duchessride.org for sponsorship information.