No Bull Battle Bayou went off with a BANG in Texas! I had the privilege to be a part of  longboard history with Houston throwing down the first ever LEGAL garage race, presented by TEAM NO BULL and the continued support of outrageously generous sponsors! THANK YOU THANK YOU THANK YOU!!!
 As the saying goes, "everything is bigger in texas" never really had true meaning to me until I visited the wonderful city of Houston, Texas for the 1st annual NoBull Bayou Battle LEGAL GARAGE RACE! The airport was HUGE, the city was EVEN BIGGER! To drive a couple hours out of your way, WHILE STILL IN THE SAME COUNTY, to visit your mom was the norm in Texas. Even the locals need GPS to get around town to prevent getting lost! Boy howdy, I would have been lost without the help of the skate community!
Bright and early, it was time to fly to Texas! I'm not the best flyer, this was actually my second time flying and I'm 24 years young! As nervous as I was, I couldn't contain my thirst for another skate adventure! As the sun rose to greet her friend the moon, I found myself documenting the beginning of an epic journey.
Jerry He was ever so kind as to pick me up from the airport with the sweetest little "Dizzy Jane" sign! From the airport we went STRAIGHT to the infamous CARVE skate shop, where I LEEPED out of the car so fast I had no time to close the door! I ran inside and hugged my fellow Canadian Chase Johnson the first familiar face that made me feel at home.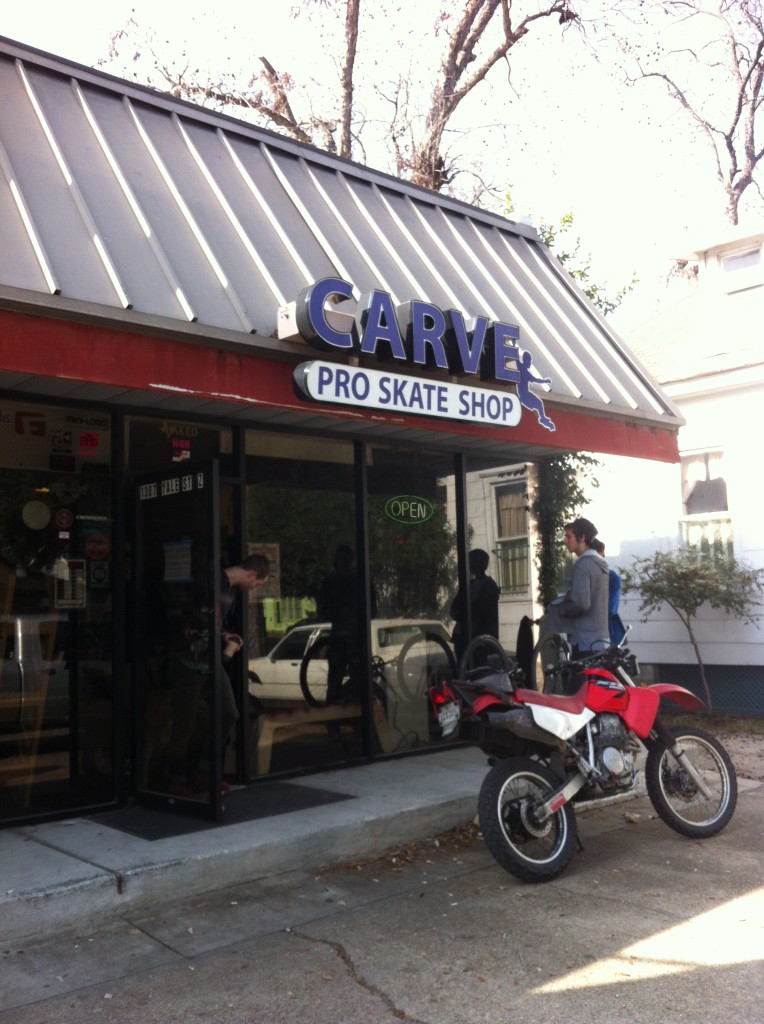 But, little did I realize at the time that everywhere I go, I'm always home. My family, OUR family, we're everywhere! Meeting my brothers and sisters for the first time in the flesh, greeted me with a smile, and a hug! My smile wasn't about to leave me face anytime soon. Colleen was one Texan I was looking forward to meeting, she is such a kind, generous person. Y'all have no idea, but I can tell you one thing, the community is thankful to have someone like her there when something goes wrong. Now that everyone was introduced, it was time to SKATEBOARD! I set up my Rayne Piranha with 46 degree Aera Trucks, Rout Bearings, and a FRESH set of RAD James Kelly wheels and I was ready to skate!
So, because parking garages ARE the hills, the sunlight has NO say in when a good time to skate is. ANYTIME IS A GREAT TIME TO SKATE IN TEXAS! It's typical to hit the garages late at night, into the early morning! Spirally down to the right was my first taste of Texan garage racing. Narrow in the corners, and a gate you had to dodge mid-run was exactly what I was hoping for coming to Texas. Not only was it my first run, but it was my first time seeing the famous 'texas wiggle' That is what we came to call it! To gain momentum, they would pump their boards in a way you would actually accelerate, while at the same time grabbing, pulling anything to get ahead and make it down in one piece. There is no such thing as 'taking it easy' its just not the HGR way of skate life. After a few runs, my Maryhill buddies Ali Johnson, Eric Hoang, and Remington allen schofield the fifth stopped by too! AFTER MANY HUGS AND GREETINGS WE TOOK A LAP as Remy would say, and smiles were had by all. J
The next morning was the first example of why everything is bigger in Texas. I have only 3 words, Spring Skate Park. Youtube it. In fact, here you go!
This place was so LEGIT, we actually had to make our own I.D card that you flash before entering the gnar grounds. This place had everything, and I mean EVERYTHING! Ledges, rails, a HUGE bowl, and a FULL PIPE!!!!! Just to get your mind working. I had my trusty Blue Sky Longboards 'finch' deck by my side, cruising around getting to know the place! I went on over to this giant bowl! It had to be at least 8 feet deep! Little did I know, this 9 year old SHREDDER was ripping up this bowl, in full battle gear! Her name was Jordan. Sweetest little girl ever, and totally showed me up! But that made me REALLY happy to see the stoke in her face as she surfed all around.
Rachel Rayne, Texan local, was also showing me her stompin' grounds in this tank!!! Hot damn, it had me inspired to take the plunge too! I didn't get very far to say the least, BUT I TRIED, and that's what skateboarding is all about. Rachel then showed me this wicked snake line, pumped up, and around a bowl and back again.
Lurkin' hard, Billy Bones was killin' it as per usual, with his unique style, you know the one. Katie Neilson was also there, channelling her inner photographer with this camera I've only seen in National Geographic! But hey, who isn't an absolute animal when they are on their skateboard! That's when you know you're having the most fun!
On the prowl to our next location it was time for some Carve Skate Shop chillin' where the skateboarding never stops! They have a portable curb that's been put to VERY good use. Besides skateboarding, something else very exciting was going on. Greg Noble, THE MAN OF THE BULLS I like to call him, was being interviewed about tomorrow's BIG DAY.
After that it was time for some dinner, at Jenni's Noodle House, one of the many wonderful event sponsors. They were so kind as to let us BOMBARD their quiet noodle house, as this family does all too well. The menu had the funniest names, it was hard to decide, thankfully Anna O'neill found photo album that made it much easier. If the food wasn't enough to make us happy, beer was the missing puzzle piece. And we had that. Oh boy! Budda Beer was served! THANK YOU! THANK YOU! THANK YOU!
Bellies full, we made our way outside for our regular safety meeting, to ensure we we're all being extra safe. News Reporter, Alice Barr from KHOU11 News did a live report about our upcoming event! Check out the report here!
I'm sure I wasn't the only one stoked to be on the news for the first time! Who would of thought it would be for skateboarding!! I was stoked, we were all stoked. We're building a name for ourselves that isn't being frowned upon! We're being applauded for our bravery! Pat yourselves on the back, it's all thanks to you!
Now that the stoke levels were risen, what better time than ever to take some practice runs down tomorrows race course! Here was my chance to learn the texas jig!! I watched carefully, experimented myself, took some notes and studied hard. I got the hang of it pretty quick coming from a snowboarding backround, but man, my legs were tired by the end! You can jig all you want, but if you don't know how to grab and pull, there is no hope for you tomorrow. My polite Canadian side had to be put to rest if I had any hopes of doing well tomorrow. HGR rules were something else, but I can dig it. We like to have rough fun in Canada too eh!
Saturday morning, the day started with good ol' starbucks with the crew! Amanda Roden, Anna O'neill, Colleen Daugherty, Stevie Dumaine, and I were off to the long distance push race! We had a very nice leisure six mile push beside one of Texas' many ditches full of water. It was too hot for my Canadian blood, but Anna O'neill pushed past the exhaustion and KILLED it in the push race as usual! This girl has such intense focus, I can't even comprehend it. She tells me, if you convince yourself that your opponent is just behind you, you can't stop, you won't stop! No wonder she's near unstoppable! Taking home 1st place women's and $100 cash! WAY TO GO ANNA!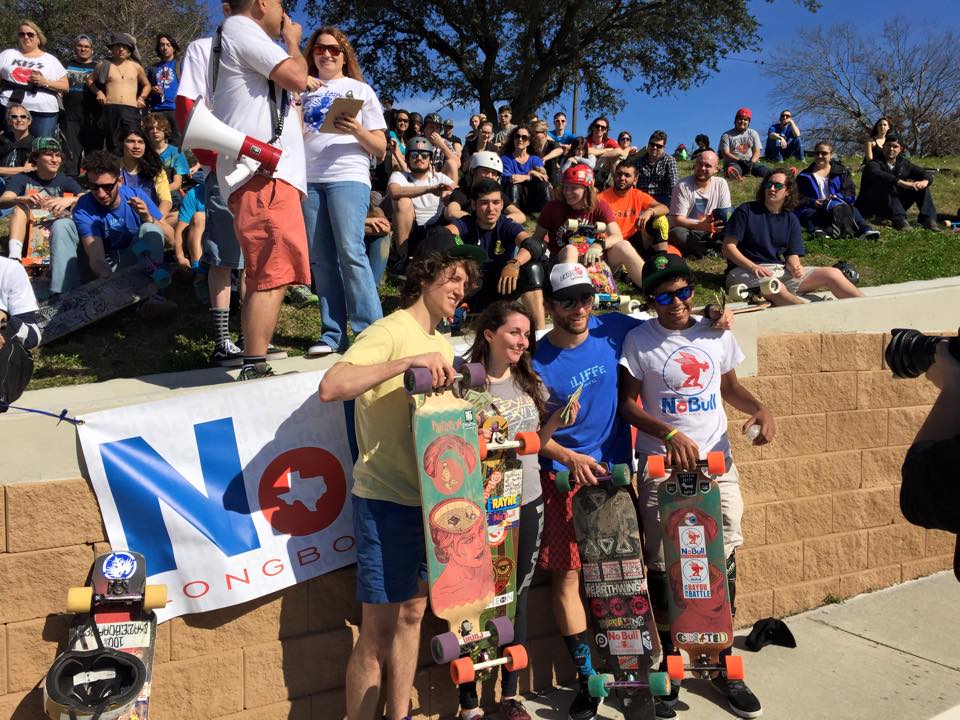 Cassandra Tamez also endured the heat taking home 33rd place overall, and second place for women's! WAY TO GO MISS YOU SLAYED IT! I took home 3rd place womens, and no idea overall cause I was too busy dying in the shade thinking cooling thoughts. HA!
Back to carve! We hung out, reminisced about the day, talking about where we wanted to go eat. After that push I was thirsty! Pineapple juice was calling my name next door, which was ever so refreshing. Until about half way through it, and what does Canadian Chase Johnson do? He kicks over my poor drink to be refresh the pavement! I called him out to do a well known Canadian tradition of "SHOOOOOOOOEE!!!!" Technically, he didn't have to do it, but he was a trooper and shocked our new American friends by drinking the rest of my soda from his shoe. He was also a gentlemen and bought me a new drink too J Don't try this at home kids!
Did somebody say tacos? I HEARD SOMEONE SAY TACOS! Hungrier than a hippo, we went to torchy's tacos! Where their slogan is 'damn good' and they were. Anna and I were seriously contemplating marrying the next American boy that came along, just so we could have this luxury within reach. Thanks y'all for being the best tour guides ever eh!!!!!
After a quick cat nap for Amanda, it was kitty play time for me before the big event! This little guy, Colleen warned me was an asshole. I was so confused why she said that, because all I got was cuddles from him! She meant he was an asshole because he wouldn't leave you alone! I was A OKAY with that, I love kitty cuddles :3
Ampin' ourselves up, we packed up the car and WERE OFF!! The hobby didn't look the same as it did last night. There were banners galore, crowds of skaters and spectators, and event pimps littered the scene!
There was that smell in the air, you know the one. The kind of smell, that smells… smelly. It was blood, sweat, and tears about to be laid out on the pavement in just a matter of hours. After everyone was registered we had an astounding 220 riders eager to skate! 13 of those riders were girls! Not bad right?!
Amanda Roden
Colleen Daugherty
Freya Jardine
Diane Hiebert
Anna O'neill
Katie Neilson
Taylor Jandi
Hailey
Hannah Matetzsckh
Candle Dotson
Tana Rohrer
Ingrid Gnarholdt
Alyse Boynton
Other lady skaters were I attendance too, like Rachel Rayne, and Bryanne Harris of Team NoBull volunteering or sexy spectating the action!! Thanks for your help!
So how do you organize 220 riders? A very loud voice that Greg has, and plenty of sheep herding help thanks to the pimps!
We had close to 30 heats of 8 people, which made things VERY exciting to say the least. The race format was very unique. With a rear wheel start, and a push box, this was not like any other race. Once you crossed the finish line, your place is written on the back of your helmet. This was done for 3 rounds total, having the lowest scores advance. I was stoked to have been put in a heat with Anna O'neill my personal coach in a bottle! She's so much fun to skate with! My third heat, at the top she yells "you boys better watch out for this bad ass chick, she'll beat you!" giggly, and bashful, I pushed off hard! Spiralling downwards, pumping and pulling, the boys tried to pass me, but playing by their rules and didn't let that happen! I was stoked to cross the finish line first! Now I was warmed up for the ladies heats!
Katie Neilson took the reins being the most experienced racer. She decided we would have 3 heats of 3 and one heat of 4. That first women's heat was probably one of my favourites, but also very upsetting at the end. It was Katie, Tana, and I at the start, around the second corner it was only Katie and I. We lost Tana to a high side, and she hurt her previously injured knee! Unaware of the severity we continued and I was enjoying the view from behind J Katie is damn fast! We didn't do none of that texas wiggle, we had a good old coast longboarding full tuck run! I got to blast Katie through the finish line with a bump, while a pimp had to jump out of the way! We advanced.
Injuries happen, but with the help of some Dave's Hippy Oil, her road rash will heal up nicely! Hopefully her knee will get better soon too. Keep shreddin' girl! What doesn't kill you, only makes you stronger!
Semi Finals we had 2 heats of 4, top 2 advance. I looked to my left and I saw some pretty fierce competition! Anna, Taylor, and Amanda all had the want to win! That yellow bungee went past, and we pushed rocks! Around the first corner it was me, Taylor, Anna, and Amanda! I wiggled as hard as I could, then grippin' right. I love that feeling of total gangster lean. Anna is coaching me, telling me that Taylor is on my ass! I look back and there she was standing tall, whippin' her hair back and forth gaining some major ground, I didn't know what to do! So I did what I do best, tuck tuck tuck! But that didn't help. She saw and opportunity and took it. She pulled me back like it was no big deal! HGR rules! In the corner I grabbed for anything I could, and I found her tiny little thumb! Leaning back too far, I shot my board out and crashed, Amanda passing right by. We get to the bottom and have a laugh about it, I was stoked to of had a legit HGR experience overall! Taylor doesn't give a f*ck, and I like that!
Next were the finals! Anna, Katie, Taylor and Colleen were ready at the start line. The yellow cord was pulled and they were off! I could only imagine the chaos they were experiencing coming down, but I was at the finish line. I saw Taylor, with Katie coming in fast close behind her with that look on her face only a picture could explain.
Hugging it out over the finish line, Taylor and Katie were battling it out down to the wire. HGR experience prevailed overall, and Taylor pulled Katie back into second place just in time for the finish line. That was the closest photo finish I've ever seen.  Taylor Jandi, Texan local, took first place on home turf! Katie Neilson second place, Anna Oneill third, and Colleen Daugherty  forth. We are all winners, because its not the destination that matters, it's the journey! Oh boy I won't forget this journey for a long time! Not only was everything bigger in Texas, but the impact this had will forever stay with me. I'm so grateful to have the support of this family, and even you the reader. If it wasn't for the stoke in this sport, people, let alone events, wouldn't come together like this.
Thank you Greg Noble, and Scott Sheridan for all your hard work putting on this event! Thank you to the Hobby Center for allowing us rowdy skaters to over-take your parking garage. BIG THANKS TO OUR FAVORITE SKATER MOM ALI JOHNSON for keeping us all in line, and helping us with whatever we needed! Thanks to the crew that made me laugh all weekend, and HUGE THANKS to my extended NO BULL FAMILY! If it wasn't for you, I would have been on the streets in Texas! You all truly made me feel like family. Thank you to all the wonderful sponsors that helped make this event such a success, and Bricin "Striker" Lyons for the sentimental value of those Coast metals. It wouldn't have been as legit without those shiny metals!
Check out some video edits of the event:
Team NoBull Bayou Battle from SkateHouseMedia.com on Vimeo.
[Longboarding]: Bayou Battle 2015 from KC Studios Creations on Vimeo.

Thanks again, until next year!!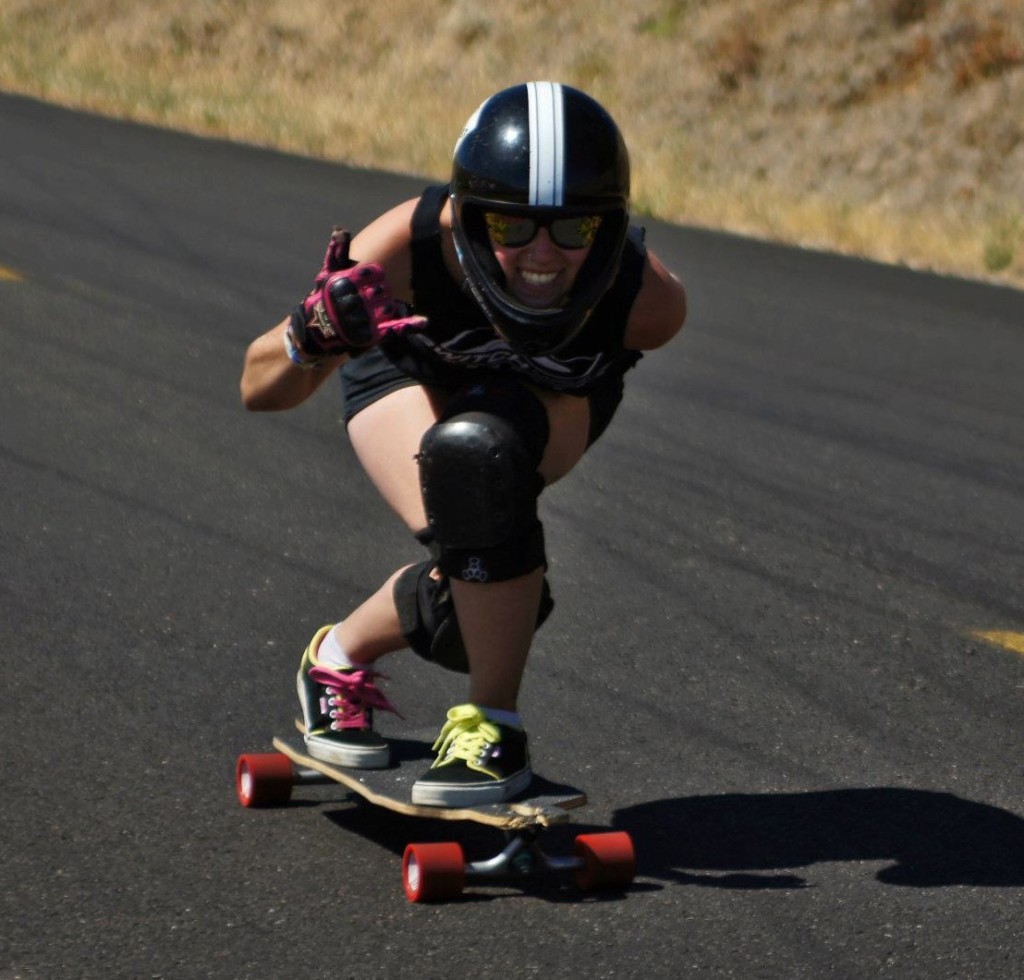 Diane Hiebert (Dizzy Jane)