On the weekend of June 27th to 29th, Barcelona hosted the Extreme Barcelona, an event that revolves around extreme and urban sports. It is described on its website as "respectful of the tradition and values of these sports". However, women have not been allowed to participate in the longboard discipline.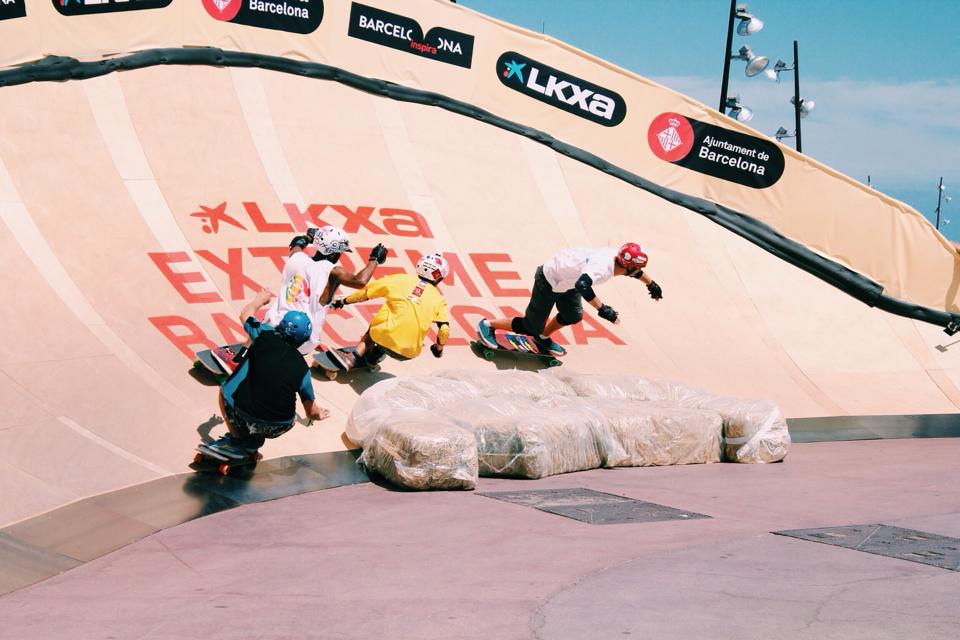 The organisation wanted to have 48 pro riders in the circuit. The overlapping of dates with a more far-reaching event (Maryhill) plus the reduced number of riders considered professionals on a national level, made it impossible to complete the list of 48 participants. This is why the organisers and Fortrate (Spanish hardware distributor in charge of the circuit) decided to invite riders of a lower level but who have a huge exposure in the local scene. The problem began when none of these invitations were designated to women. Some women tried to enter the event but their presence was rejected although their skill levels were -in some cases- as good or even better than some of the riders invited.
Nevertheless, one courageous woman, Montse Solé decided to enter by pretending to be a boy. She used Ignasi Campos' clothes, along with his race number and helmet. The Catalan rider managed to complete the longcross circuit six times. She finally got caught by one of the organizers and presenter of the event and was thrown out of the venue while shouting "women can't participate".
It's kind of curious how this is happening in Barcelona, a city that defines itself as forward-looking, European and modern metropolis. The mouths of its politicians are full of flowery speeches about feminism and they say that they fight for women's equality; in this city, there is a quota system based on gender in order to ensure effective integration of women in political life. In Barcelona (as well as in the rest of Spain) women's equality is being defended from the political authorities through the quotas, political plans, programmes and social measures with large budgets. An example of this is the "plan municipal para la igualdad de oportunidades real y efectiva entre hombres y mujeres" (Municipal Plan for Real and Effective Equality Opportunities between Men and Women) that has been working since 2012. Xavier Trías, Barcelona's mayor, writes on that plan's dossier: "from the council we are strongly trying to eliminate inequalities and discrimination towards women, and to promote their implication and visibility on every field of our city". Other programmes and actions benefit from the budget of this plan, like the Youth Programme or the Sports Programme.
Despite this, in Barcelona, during the Extreme Games, in the longboarding discipline, women weren't allowed. The organisation's Sports Director, Jaume Puigdengoles, said that the circuit was "too physical". How is it possible that in a country where women are officially included in the State Security forces, they are still being excluded from sporting events because of the physical requirements? Women have played a role in the army for the past twenty six years! Isn't that enough demonstration of their capability?
On the other hand, sports have always been an effective way of education on integration and inclusion, mostly amongst the youth. Longboarding has experienced a huge growth in recent years and has become a privileged tool to transmit attitudes and both social and personal values. The idea that woman can't perform a sport for it being too hard cannot be tolerated under any circumstances. Much less if it's happening in an event with public fundings and in a public space. It is shameful; and the worse thing is, what kind of values are being passed on to the next generation? Through ignorance the council appear to have lost sight of the very values that sport itself brings.
The reality is that Barcelona's council, with all its plans and budgets for equality, has approved and provided a public space and funds for the organization of a sexist event. So, what happened with all those plans and budgets for the equal opportunities? When a public institution opens up a space or finances an event, it should ensure the equality principle, assuring women's participation.
I think I speak on behalf of all women and a lot of riders when I demand an amendment by both the authorities involved and the event's organizers. I am not asking to open the doors to women just because of the gender but rather because of their capability to be there. I know some and it has been demonstrated that there are women who have the physical requirements to participate.
ESPAÑOL
El cinismo político sobre la igualdad de la mujer en el deporte.
El fin de semana del 27 al 29 de Junio, Barcelona albergaba el Extreme Barcelona, un evento que gira entorno a los deportes extremos y urbanos, y que se describe en su propia web como "respetuoso con la tradición de estos deportes y de sus valores" Sin embargo, en la disciplina de longboard, no se permitió la participación de la mujer.
La organización pretendía tener a 48 riders de nivel profesional en el circuito. La coincidencia de fechas de este evento con otro de mayor alcance, junto con el reducido número de patinadores considerados profesionales a nivel nacional, imposibilitó completar la lista de 48 participantes. Por esto, los organizadores y Fortrate (distribuidora de material encargada del montaje del circuito) decidieron invitar a patinadores de menor nivel pero de gran presencia a nivel local. El problema llegó cuando ninguna de estas invitaciones se destinó a una mujer. Algunas de las patinadoras intentaron acceder a la competición pero su presencia les fue negada a pesar de que su nivel era igual o mayor que el de algunos riders invitados.
No obstante, una valiente, Montse Solé, decidió "colarse" en el circuito haciéndose pasar por uno de los chicos, Ignasi Campos, que le cedió su dorsal a la heroína. La rider catalana llegó a completar el recorrido hasta seis veces. Por fin, uno de los organizadores y presentador del evento la reconoció y la echó de recinto al grito de: "las chicas no pueden participar".
Es curioso cómo esto ocurre en Barcelona, una ciudad que se define progresista, europea y moderna. Sus políticos se llenan la boca con el discurso feminista y dicen luchar por la igualdad de la mujer; en esta ciudad, se sigue un sistema de cuotas de género o cuotas de participación por sexo, tratando de garantizar la efectiva integración de las mujeres en la vida política. En Barcelona (al igual que en el resto de España) se está defendiendo, desde las instancias políticas, la igualdad de la mujer a través de las cuotas, programas y planes políticos y medidas sociales con grandes presupuestos. Un ejemplo de ello es el Plan Municipal Para La Igualdad de Oportunidades Real y Efectiva Entre Hombres y Mujeres, que se lleva a cabo desde el 2012. Xavier Trías, Alcalde de Barcelona, escribe en el dossier de mencionado plan que "desde el ayuntamiento de Barcelona estamos intentando de manera firme, eliminar las desigualdades y discriminaciones hacia las mujeres, y promover su implicación y visibilidad en todos los ámbitos de nuestra ciudad".  Del presupuesto de este plan se benefician otros planes y organismos que supuestamente luchan por la igualdad de la mujer, como son el Programa de Juventud o el Programa de deportes.
Y sin embargo, en Barcelona, durante los Extreme Games, en la disciplina de longboard, no se permitió la participación de la mujer. El director deportivo de la organización, Jaume Puigdengoles, llegó a decir que la participación femenina ni si quiera llegó a plantearse puesto que el circuito era "muy físico".  ¿Cómo es posible que, en un país en el que la mujer está incluida de forma efectiva en los cuerpos y seguridad del estado, se la descarte todavía de eventos deportivos por la exigencia física? ¡Que hace ya veintiséis años que la mujer puede alcanzar todos los empleos militares!
Por otra parte, el deporte ha sido siempre un medio eficaz para la educación en integración e inclusión, sobre todo entre los más jóvenes. El longboard, que ha sufrido una gran renovación en los últimos años, es una disciplina popular, que atrae a los jóvenes y que por lo tanto se ha convertido en una herramienta privilegiada para transmitir actitudes y valores tanto sociales como personales. No se puede aceptar, bajo término alguno, que en un espacio público y en un evento subvencionado por una institución pública, se transmita el valor erróneo de que una mujer no tiene el físico mínimo para realizar una actividad deportiva. Es vergonzoso y lo peor de todo, ¿qué valores se están transmitiendo? El ayuntamiento se ha pasado los valores del deporte por el forro.
La realidad es que el ayuntamiento de Barcelona, con todos sus planes y presupuestos por la lucha de la igualdad, ha financiado y cedido un espacio público para la organización de un evento machista. Y yo me pregunto, ¿qué ha pasado con todos los planes y presupuestos para igualdad de oportunidades de la mujer?  Cuando una institución pública o gobierno, cede el uso de un espacio público o subvenciona un evento, debe garantizar el principio de la igualdad, asegurando la participación de la mujer.
Creo que hablo en nombre de todas las mujeres y en nombre de muchos riders cuando exijo una rectificación por parte del ayuntamiento de Barcelona y de los implicados en la organización del evento. No estoy pidiendo que se abran las puertas a cualquiera sólo por ser mujer; pero conozco, me consta y además ha quedado demostrado, que hay mujeres con la capacidad física requerida para participar.
Cristina Padovano – LGC UK Ambassador