Longboard have changed our lives, the way we think and act, the places we have visited and the awesome people we have met. This could sound like a cliche but I like to see it more as a fact and a positive trend between longboarders.
As everybody knows, the Visayas region in the Philippines was devastated through the most potential typhoon ever registered, Yolanda. The number of deaths are rising in these days, more than three months after the disaster by its own experiences. We know that sometimes when the media stop covering the consequences, the world tends to forget. This is going to be a long term and hard recovery.
As both of us (Fifer and me) coming from countries in which natural disasters are common and devastation has been therein a way we can relate. The Philippines need to keep optimism and strength to the coming scenery.
A couple weeks after the disaster of Yolanda typhoon we visited the Philippines to attend a longboard event. We met some awesome people from the most devastated area, The Visayas. One of them Dandoy Tongco and Pedro Escarda told us that a lot of skaters and skimboarders (Visayas has some of the best skimboarders in the world) lost their home. One of the way to help them keep optimistic and strong spirit during the adversity is helping them getting back on the board.
We realized this was a perfect opportunity to help the others in a more tangible way as skaters. We knew that this is the kind of help we want to give. I donated a complete board  which was one of the prize for my 1st place at Haven's Gate women's division.
While there is a rush to buy the newest longboard gears in some countries as Japan, it produces a lot of abandoned equipment in this search as well. Having new equipment feels good. However, have you ever think about those boards without use in your room just accumulating dust?  As a longboarder we know what each board represents and lots of memories might be in them as well, but those boards are not in use anymore. We are a community, we have to be grateful and help each other. Longboard has opened us a new way of life, a new way to travel and a new way to gain and share experiences. We want to give it back whenever we have chance, however way we can contribute.
It's not just about showing your skills in a video or trying to beat someone in the race track. Longboard has showed that our community is more than that. Longboard is a family, it's a passion, it's fun, it's a pretext to keep young and avoid living inside the grid.
In the end our visit to the Philippines made us realized that we can actually shred in any board or equipment. They remind us that the most important piece for skate is yourself
When we returned to Japan, quickly we started to announce our project of donating used longboard equipment. The reaction from local skaters was incredible. Since the first hours there were a lot of Japanese longboarders who were interested in helping. Since day one it has been growing and we keep receiving a lot of used and new equipment. We are very thankful for having such amazing collaborations and kind hearst of fellow skaters. This is by far the best moment we've ever experienced in skating and relating with other skateboarders.
To receive the donation equipment we only asked not to give away flatspot or coned wheels or some unusable stuff. We are receiving anything related to skate, not just longboard. Safety equipment and accessories is also recommendable.
As any other donation, the most difficult part has been the delivery. It's a bit expensive to send big overweight boxes from Japan to the Philippines. We are stucked for the moment but we're looking for the way to cover the shipping costs so that the donation will flow again We have our Paypal account for this project: keepemshredding@gmail.com Any skaters/nonskaters who wants to help us by covering a bit of the shipping costs, it is the most appreciative help to keep our project active.
All of this began with the word of Grupo Nopo guys including our friend Dandoy and Pedro who I mentioned above. We brought out the idea to Japan, and now it would be great to bring the awareness farther. We need your help to bring back kids and young people back on their boards. They lost everything. Maybe we cannot help them as we wish, but we have the tools to make some little changes happen. Donating used skate equipment for them can be a simple but significant change.  We could make a "life changing experience" for the others, just like longboard has brought us those delightful moments and changed our life…
"Keep em' Shredding" has planned as a project with continuity, not just relief support for the disaster. It has the potential to keep growing. It can be expandable and applicable not only the Philippines case but also for other places and situations. Also this project is not only belongs to us as a couple of individuals trying to make a change. It belongs to every boarder out there who is ready to help the others.
We believe that everyone may have the opportunity to be shredding and having a much fun of life. We hope our action will be the inspiration for whoever wants to help others to "Keep em' Shredding"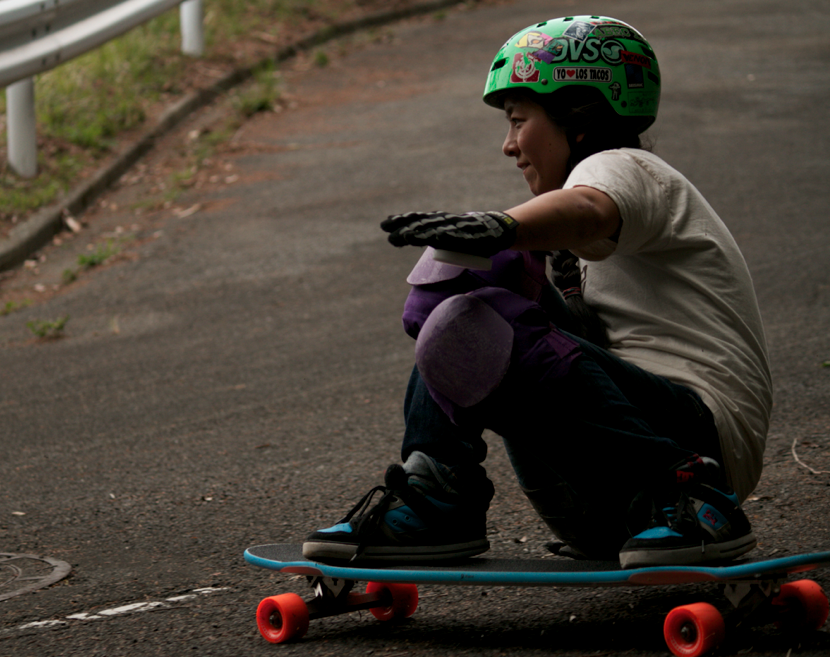 Ayumi Oride