This is Cindy Whitehead. Out of all the skateboarders I know in Los Angeles, this is the only girl with balls big enough to skate down the 405 freeway weekend it was shut down.  This is typically the busiest stretch of highway in the country, there was months of preparation construction to be done in order to shut it down at 10 pm on a friday and work like mad men to reopen it by 5 am Monday morning.  Cops at every entrance and exit.  Threats of arrest to any man that skates or bikes the freeway during what was dubbed CARMAGEDDON.  Cindy Whitehead takes the gold.  An interview, with the lady herself.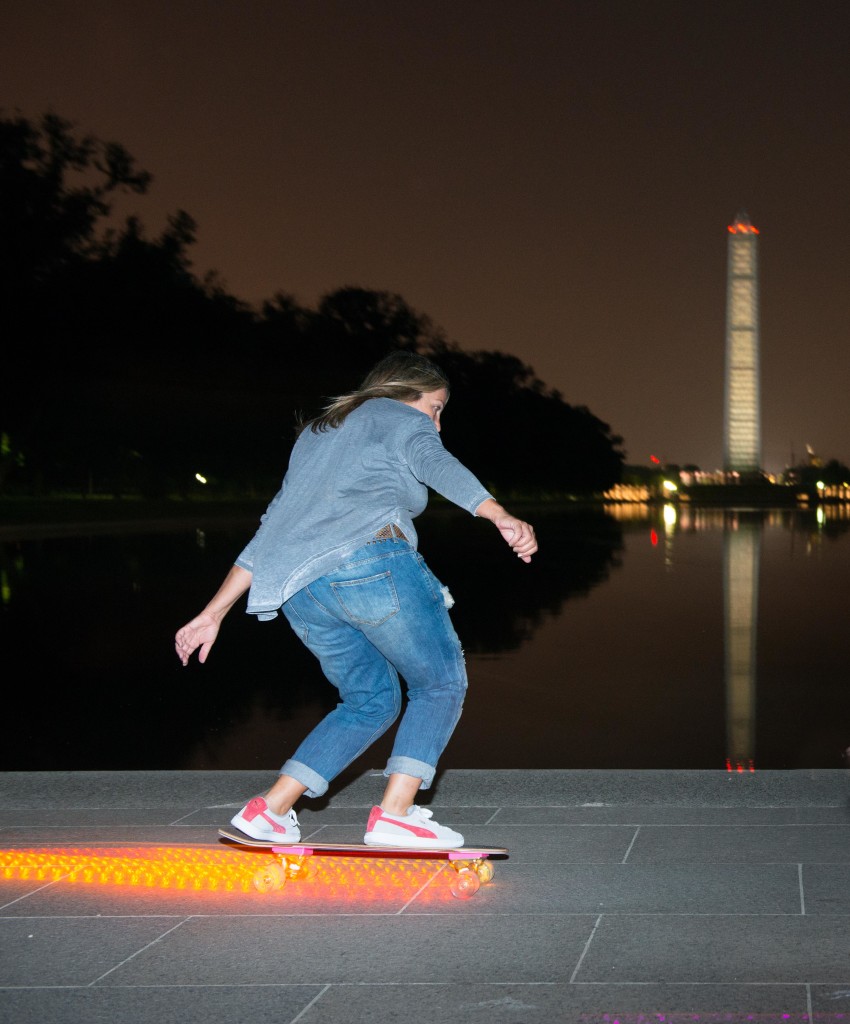 What year did you first step on a skateboard?
The very first time I stepped on a skateboard I was 8 years old and it was a Black Knight – wood board with clay wheels – not the smoothest ride, but I was loving it! The next time I started really skateboarding was when urethane wheels came out – I got a Bahne board with Cadillac wheels for my 14th birthday and started skating again and never stopped.
At what point, early in your "career", did you know that you were GOOD at skateboarding?
The first time I realized I was good at this was at my first big contest – The Hang Ten Olympics. I had only done local contests and this was a freestyle contest that had skaters from all over the country coming to compete. I got 3rd out of about 28 girls in my division.  That same day Gordon & Smith asked me if I wanted to ride for them and started flowing me stuff. That was a HUGE moment for me! I just shared this story with Debbie Gordon a few weeks ago and told her how stoked that had made me feel!
Later with pools and ½ pipes it was when guys would stop and watch me skate the ½ pipe and I started earning their respect.
How many hours would you say you've spent on a board? 
I have absolutely no idea. When I was competing I spent 6-8 hours a day at the skatepark 7 days a week – because I loved skateboarding & this is where my friends were.  I had ½ days and my senior year I had correspondence courses in high school so I could skate, travel & compete. Even before I started competing I'd be on my board all day every day in the summer and on weekends skating by the beach, doing freestyle tricks at the pier.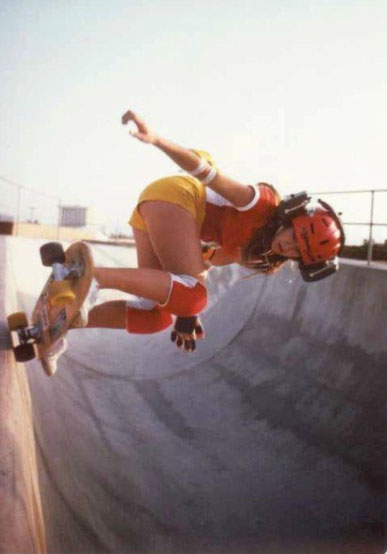 What did the scene look like at the peak of your competitive years?
It was huge! Tons of people at contests – even local contests. Not as big a crowd as we have now at the X-Games of course – but for an underground sport (at the time) there were always a lot of people at these events. If you look back at old footage you will see what I am talking about.  Lots of team riders all in their team colors and jerseys or shirts – it was very colorful and a crazy/fun time.
How did being sponsored so young affect your life?
I think it was great; it was like having a second family. With a LOT of brothers!  Ha!  I felt very lucky to have made my way to Sims Team in my pro career it was a very good fit and I was treated very well. They did things like make custom tee shirts with me in powder blue with the Sims logo in pink, they cut down my boards so they worked for my height – things like that – they went the extra mile for me.  Puma was another one of my sponsors and they were also very good to me – I went through a pair of sneakers every month and they were always supplying me with anything I needed. I was able to compete and travel a lot due to my sponsors.
What are some places you've traveled to in order to compete?
I had a great guy named Ted Coombs create a skateboard tour for me back in the day that took me to Cherry Hill Skatepark in NJ, Apple Skatepark in Ohio (these were 2 of THE best skateparks indoor around back then) and also to various parks in Florida – it was 3 amazing weeks of skating new terrain. I also traveled up and down California over & over to compete, because that's where most of the contests were based.
What is the worst injury you have sustained?
I broke my elbow twice and broke my tailbone once. The elbow just involved having it set and having a cast for awhile so it wasn't too bad.
What were the feelings you had when you were in the presence of other female shredders as opposed to being the only girl?
I liked it!  One of my best friends in skateboarding is Judi Oyama – we met the week I turned pro at the Gold Cup Series – she was so cool (and still is!) we clicked immediately and have been friends ever since. When girls learn to work together rather than seein
g other girls as the enemy we all win and get further ahead. That's always been my philosophy.  That's something I really love about Longboard Girls Crew – it promotes that whole concept of girls having a great time together.
At what point did you decide to "retire" from skateboarding?
It was kind of a "forced" retirement – in the early 80's all of the skateparks started closing down, so contests became non existent. I stayed in the scene skating backyard pools and ramps (like when I first started) but soon I realized I had to focus on what was next as far as a career.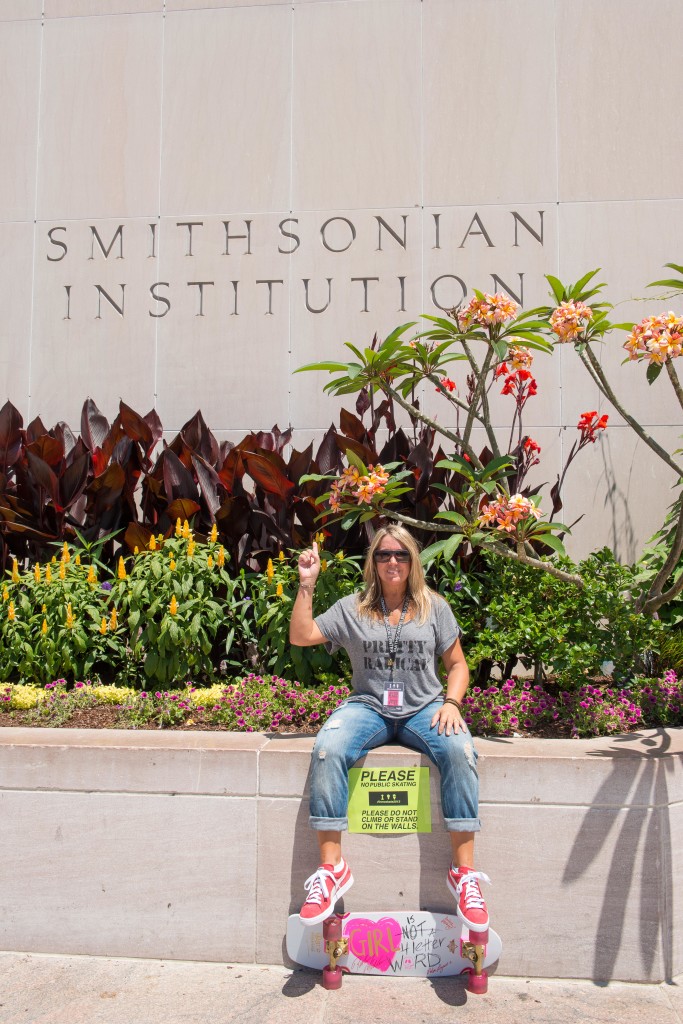 What accomplishments are you most proud of today?
I think I'm most proud of the fact that all of us girls back then did something that went against what girls were "supposed" to do and kept doing it even if it meant being looked at as being a tomboy, or as being "different". I'm also proud  of the centerfold I had in the magazine skating vert on a plexi glass ½ pipe. It helped show that girls did skate vert and could be rad just like the boys.
I'm now proud to be able to give back to girls in skateboarding via the "Girl is NOT a 4 Letter Word" skateboard collab with Dusters California, Longboarding for Peace, with my profits from the board going to the non-profit GRO (Girl Riders Association)
I'm also proud to have some of my skateboarding history taken into The Smithsonian National Museum of American History's Sports Collections. That is probably the biggest honor I have ever had
In what ways have you reached out to the younger, impressionable skaters?
I try to reach out via facebook, instagram, at contests and via direct messages  to the younger girls and let them know that a lot of us OG girls are rooting for them. I love what these girls are doing and I am stoked to be able to feature all type of girl skaters on the Girls is NOT a 4 Letter Word blog site.
You've developed quite a name for yourself after your athletic career, why did you decide to pursue an adulthood within your childhood memories?
Skateboarding is something that is always with you and I think I knew I wanted to have a career that involved sports and my love of fashion allowed me to mesh & merge the two. To be able to be involved directly again with the skateboard industry & my friends in it  on a daily basis is icing on the cake. I am very lucky.
Did the term "Sports Stylist" exist before you decided to be one?
No, I decided to move on from doing fashion & celebrity styling and try and work with mainly athletes and create a niche where there wasn't one at the time. So one night I cane up with the wording Sports Stylist® – it seemed to fit and explain easily what I was doing. I then trademarked the name and here we are.
What do you think it takes for girls to start and stick with skateboarding?
I think it takes really loving it first & foremost. Without that everything else is going to be tough. Once you have that passion or love for the sport, things like falling, breaking a bone, road rash, being one of the few girls at a skatepark, etc. is a bit easier because you are doing what you LOVE.
Staying with it becomes easier when you have male & female friends and family around you that have your back & offer support and encouragement.  A good group that you are excited to skate with makes it that much more fun as well.
Seeing female riders in magazines, websites and videos is also something that I feel helps keep girls motivated & progressing as fast as the boys.
Sponsors become important later on once you have obtained a certain level because it gets expensive traveling to contests, entry fees, & buying gear, apparel, etc.
If you were to give girls three bullet point pieces of advice to advance their skating, what would you encourage them to try on their next sessions?
I actually have 4 tips
Start working on being 100% consistent with the trick you "almost" have down
 Start learning the next trick you want to learn "bit by bit" – sometimes it takes awhile
Don't give up – if you don't get it today, tomorrow will be here soon enough
Skate new terrain!  If you always skate the same spots you are not     progressing – get out of your comfort zone!
Tell me about Girl is NOT a Four Letter Word.
The wording was something I had been using here and there for awhile and when the collab board with Dusters came about I knew that's what I wanted to call it.  People sometimes ask what does that mean?  Sometimes you will hear the word GIRL used in a negative way i.e. "You throw like a GIRL", or "You skate pretty good, for a girl"  – that's using someone's gender as a put down and the word GIRL basically becomes a nasty word just like a lot of other 4 letter words you aren't supposed to use.
I think the best thing about this GN4LW board project is the awareness it brings to Longboarding for Peace and the money it's raised for GRO to help other girls live their dream through getting involved in action sports.
What females are you proudest to know in the skate world?
That is easy – EVERY SINGLE ONE OF THEM. Every girl out there from the beginning to now has helped make shape this sport – and each and everyone of them encourages other girl's to get out there and skate just by doing it themselves.  I am proud of all of them!
What do you think of the Longboard Girls Crew and the explosion of longboards onto the skate industry?
I love it – it's so awesome to see so many girls longboarding!  Skateboarding is not just one type of skating – it's all types and longboarding has become popular all over the world and I think that is awesome. The Longboard Girls Crew is an exciting group of dedicated and rad female skaters – the videos and the trips they take blow me away – I am a HUGE fan!  #girlcrush 100%!!
Would you like to see a combined girls competition or exhibition event featuring both traditional skate and longboard events in the same location at the same time?
I actually think that would be RAD!  I think what girls on doing on longboards and in the park, street, banks is all amazing and to highlight those skaters all in one event would be really great!  They would just need to make sure the location has really great places to ride for all the disciplines  so everyone can be stoked to skate.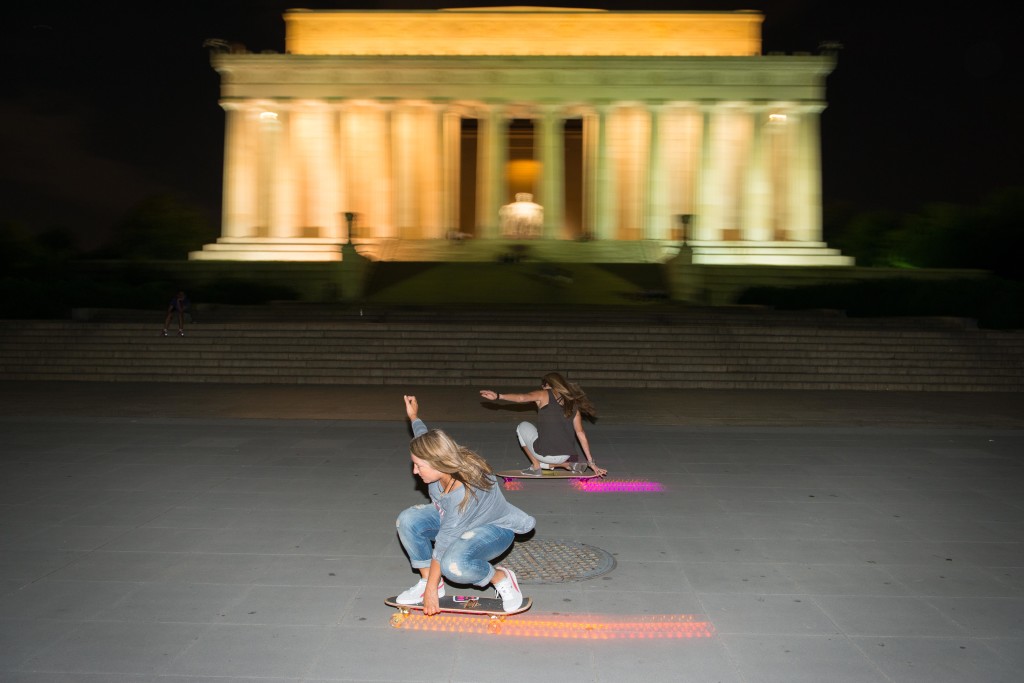 What are your plans for 2014?
To add some new products to the Girl is NOT a 4 Letter Word clothing line,  & to keep posting about girls on the GN4LW site every day. I am working on a project with my friend and fellow old school skater Judi Oyama that is going to be killer and I have been thinking about spots I can skate (like when I skated down 405 fwy here in Los Angeles) that would be different, interesting, and hopefully never done before. I want to continue to do speaking engagements and panels – I had a great time speaking on a panel at The Smithsonian and doing a TEDx talk last year – so more of that is in my plan for the upcoming year. I'm also working on another collab board aimed at females again –  so I am excited to finish up the design on that and be able to share it with everyone.
But my biggest plan in 2014 is to keep having fun, support all the girls skating out there, and do epic shit.   xx
🙂  THANK YOU for taking the time to chat.  Stay RAD Cindy.  You're a beautiful soul.
-Daisy!