We got to chat with our Euro sister – Bianca about skating, horses, surfing and her role in organising the uber popular freestyle & dancing competition – "so you think you can dance". Enjoy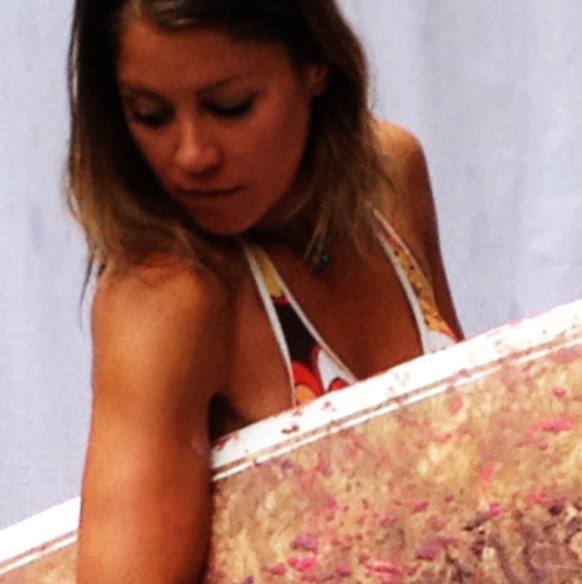 Hey Bianca, how are you?
Hi buddy, I'm doing good! You?
Where are you from?
Originally from the Netherlands and Belgium. I lived in Belgium, moved this year to Scheveningen, the Netherlands and eventually moved to Tarifa, Spain.
What took you to Holland?
I was living far from the sea in Belgium and wanted to move closer, so I did. I was more in Scheveningen than in Belgium. I lived in my van and at my sisters for a while and eventually travelled to Tarifa, Spain. Amazing town, 2 continents and 2 seas meet there, the energy is amazing and so are the people. A lot of surf entrepreneurs, people really know there how to live their passion.
Are you a mermaid?
Hehe wish I was… actually, no! because you can't skate with a tail. I love to surf but I guess that also is better with legs. Or maybe not, I  never tried it with a tail. We should ask a mermaid what is possible, have you even seen a mermaid?
I've seen a dolphin, does that count?
Of course, nice!
When did you start skating?
When I was little, with my brother's skateboard but there was no one who skated around me so after a few attempts I changed to horse riding. In 2011, I was going with my horse to the water on foot because she was too young to be ridden. And that took too long… so I decided to go with her on a longboard instead and that was so nice, cruising together.
What did you enjoy about it?
Just being in the flow, my horse was enjoying it also, running at the side on the road and me next to her holding a belt attached to her belly (don't try this with any horse, I trained my horse for this, be safe). After that I was stoked to meet other people who skated, learn stuff and skate with them.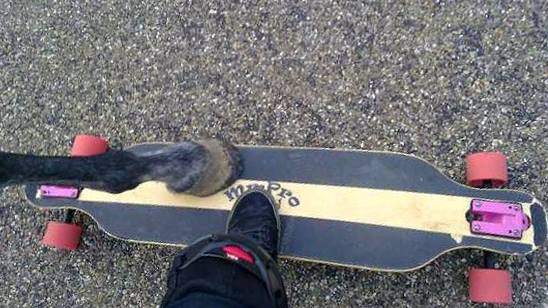 Who else was skating around you back then?
The people from Eindhoven Roll City, very very nice guys! And a girl who skates moved to the little town I was living in, we were the only two skating, talk of the town.
What is the Roll City?
A really nice group who meet every Wednesday night in Eindhoven. So nice that even people from cities far away come and join them.
Was it different skating with another girl?
Yes, more cruising and talking, nice to chill! I like to skate with guys, makes me feel like a sissy but I like to try new things.
Did you do anything to get more people on board?
Yes, my work is also about that. Within Flow Provider we teach longboarding within schools (also BMX, Skateboarding, Breakdance etc). We organise events and also workshops and meetings within other events to inspire people and spread the stoke!
What is your favourite thing to do on your board?
Go a bit fast and be in a flow of carving while doing that but I'm a sissy with that… so I guess the best thing is not to fall. And it's nice to try tricks of course.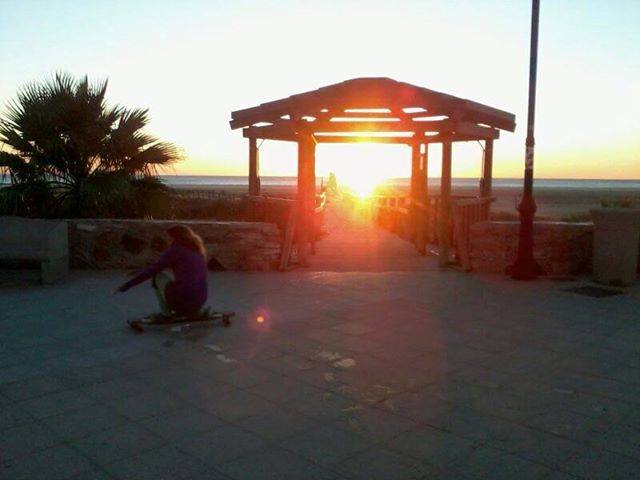 What is Flow Provider?
Flow Provider organises workshops, projects and events within hiphop, street based culture and streetsports (officially explained). We have been doing this for over 13 years now. Recently, I've developed Spots and Locals as part of this, aiming to connect people who can inspire each other and create awesome things together.
Who is we?
Tyrone, my colleague from Rotterdam, and myself together with Lotte and now our intern Kimmy and 20 teachers. Some of them have been around for 10 years now. Some have really made their mark within their field but find educating kids really important, so they keep giving the classes within the schools.
How was this project born?
We were organising a big hiphop event and within that we wanted to get kids involved so we went to schools teaching breakdance, graffiti, rap, turntablism etc and after the event the schools kept on asking the teachers to come. I was already involved with different street sport things and we decided to extend Flow Provider also in that direction.
Do you do all these things, MC Bianca?
No not at all, wish I could but have no skills, I leave that to the talented people and do what I'm good at, organising.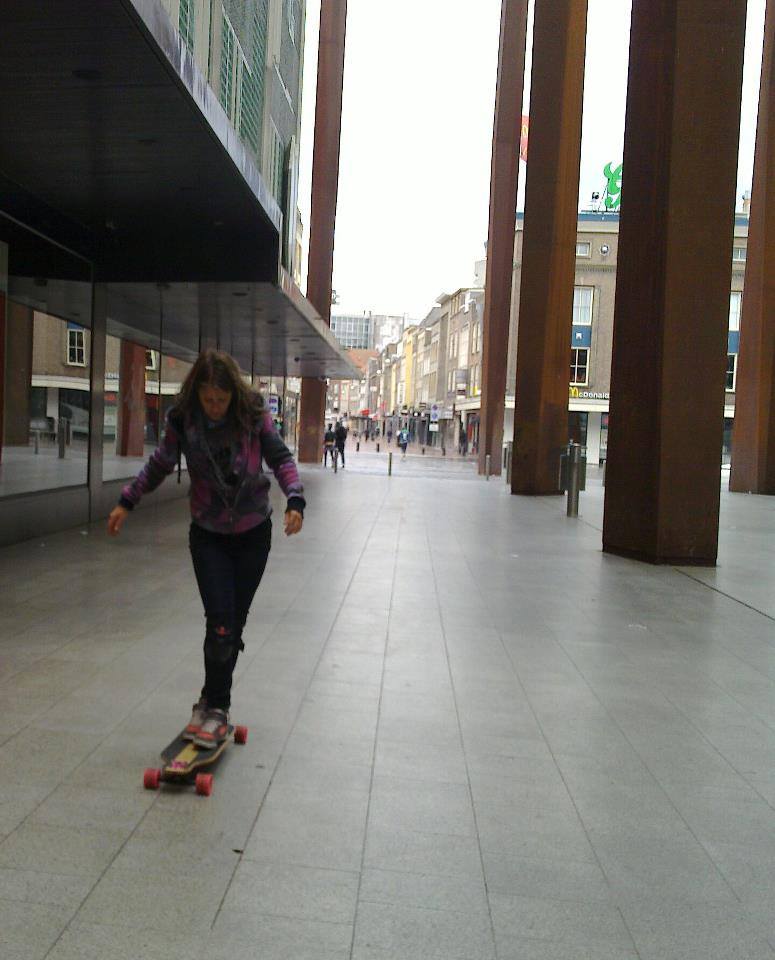 What is the aim of FP?
Educating, inspiring, spreading the stoke! Making a circle, kids learn, they get inspired, do their thing, get good at it, develop, make their mark, be able to make a living within their field by teaching or organising, giving demos or whatever and take care of the new generation.
What is your role in the family?
Organising, creating new ideas, pr and stuff.
How does this work with your skating?
Well I just skate for fun but I'm always thinking about new ideas and stuff. "Do what you love, love what you do" within everything you do and all will fit together.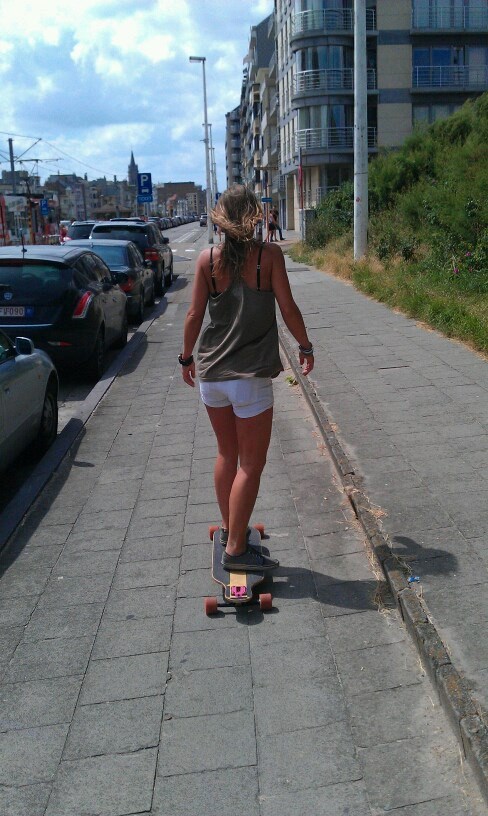 What has been the highlight of your decade working at this?
Well that surely was "So You Think You Can Longboard Dance"!
In fact a nice story; the head of the 7000+ venue, Klokgebouw in Eindhoven, The Netherlands, told me when I wanted to organise something I could use it because I was managing one of their buildings in the past which a.o. contains a BMX park. So in the cold and rainy winter I asked him if we could use it for a day to skate in. Everyone was so stoked that it grew into a big event! Luckily I have experience in event organising so it still was a chill day. The organisation behind the venue, Trudo, was so awesomely kind to pay for the unexpected extra costs of medical aid.
I'm so grateful to all people and organisations like the Boardfather and Samplism who offered their help and equipment for free. It was heartwarming to see all the people join and be stoked and all the brands immediately offering to sponsor the prizes. It became an awesome day about sharing the love for longboarding. People from different countries, such a togetherness and inspiration. There were awesome skills on display and a relaxed atmosphere that also motivated less experienced riders to try things outside of the competition.
There will be another edition (now called "So… You Can Longboard Dance?") on the 16th of February 2014. People from all over the globe are coming, amazing!
Also we recently launched "Longboardlessen.nl /.be" to connect people who want to learn to longboard or get better in a certain discipline to those who can teach them. We found out not everyone can find their way to communities and this way they can learn and can be introduced to like minded people in their area. And even more people than expected are interested.
Why did you organise the event?
Because the best thing in the world is to see people doing what they love and sharing this together.The energy is amazing and inspiring. I'm grateful that so many people came and we were honoured to welcome them!
Did you expect so many people from far away to come?
No not at all, amazing!
What will be new for the 2014 event?
The main thing is that we added a contest for non sponsored riders.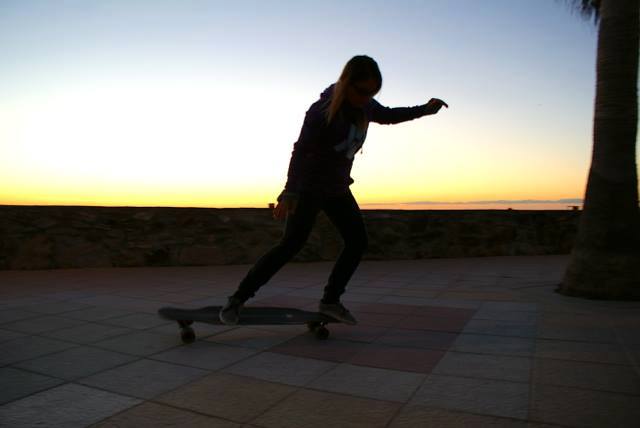 Will we see more skate events hosted here?
It's normally a venue for concerts, fairs and such, so only one skate event there now. But we have the indoor AreaFiftyOne Skatepark on the opposite side of the street.
Do you have any plans for the rest of the year?
Yes I'm going to travel around, be inspired, continue with Flow Provider and Spots and Locals from different countries. Together with other local girls I'm opening a house in Tarifa for girls who surf and skate. It will be a mix between girls who live there and girls who can stay there for a vacation. This way they can immediately join the "locals" who know where to go and go with them. Also I want to set up some girl trips for longboard, surf and skate, for those who like to improve their skills in both areas. It's going to be called GirlsLoveBoards.com.
What do you do when you're not skating?
Working, training horses at liberty, surfing, some pilates and hanging out with friends… and setting up goals to be a better version of myself, with 'çojones' and such.
It's been fun having this conversation with you. Maybe we'll see you at the event in February.
It would be awesome if you could come to the event. Also thanks to you, nice talking to you for sure!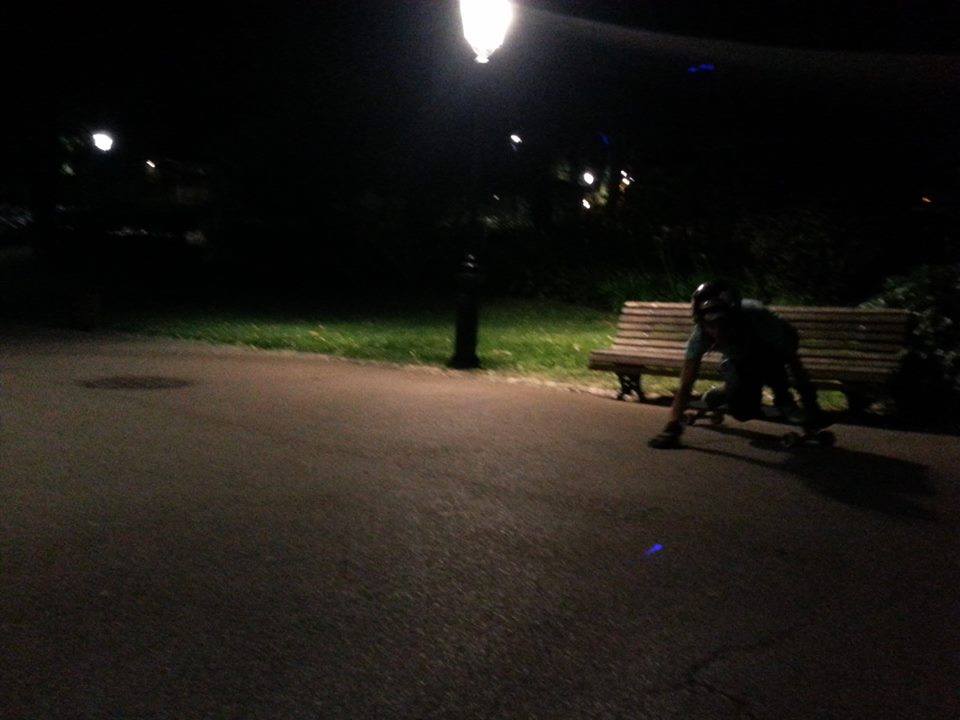 Links
www.flowprovider.com
www.longboardlessen.nl
The event page of "So.. You Can Longboard Dance?" https://www.facebook.com/events/460205320760388/4