Skaters come in all shapes and sizes, along with different styles and attitude. Here in the west coast of British Columbia, we bred a certain type of skater, and we're called "Coastie". We love to skate fast, and party harder! Where the term 'coast tattoo' means a patch of scar tissue! We are the gnarliest of the gnarly! This 22 year old, 5'ft 5'', 125lb bundle of spunk is no exception! Gnarly Charlie is sweet, beautiful, and fearless! She hops trains like nobody's business, bombs highways, sleeps under bridges, living the free spirited life! She's come a very very long way to get herself where she is today, and she is definitively one to inspire the masses of women's downhill longboarding.
Diane: How did you get the name Gnarly Charlie?
Charlie: Well, being a punk ass teen with the mouth of a fisherman probably had something to do with it. I also have gone by the name "team kids" 😉
Diane: What brought you into this skateboard world?
Charlie: Before I got my first skateboard I used to steal my boyfriends all the time and the faster I skated away the more I got to ride it! Then when I was 16 I heard there was a "skate comp" called Danger Bay 6 close to my home town up in Pender Harbour on the Sunshine Coast. My friend Holly and I hitch hiked up there for the weekend and then I learned that it was actually a race. I was sitting at carnage corner, watching people flying down the hill riding so close together, I thought they were all crazy! I had never seen anything like it! I decided right then and there that this was something I HAD to do!
Diane: How did you find the coast family?
Charlie: A couple months after danger bay 6 I had started hanging out with team green and got my first longboard. Every weekend for about a year I would go up to Pender harbour and shred. I learned pretty much everything I know from them, and it was "keep up or get left behind", I learned fast and loved it. Just like I said I would, I raced danger bay 7 and every race I could make it to after that! I grew close to the man they called "THE GOD FATHER OF COAST" Bricin Lyons, being from the coast myself, and the more races I went to the more "coasties" I met along the way! I love the whole coast family and I feel lucky to be apart of it. Two ladies, Carly "Midget" Richardson and "Skatie Katie" Neilson are a huge inspiration and were the first gals to make me really feel like coast family.
Diane: I know who Katie is, but I've never heard of carly! does she still skate?
Charlie: Carly aka Midget is one of the original female racers before there ever was a women's class. She's from Vancouver BC and is beautiful and sweet as can be. She doesn't race any more but she still skates!
Diane: When did you first get first place in a race, and What has been your most memorable experience so far?
Charlie: The first race I won was in 2010 in Colorado USA at "Buffalo Bill". Each race is so full of the craziest memories, I could list hundreds of them. I think the most memorable experience would be when I finally won my home town race at "Danger Bay"!
Diane: That must of been so surreal for you! When I was at danger bay for my first race, I was SUPER NERVOUS! But you were there and invited me to do yoga with you, which really helped relieve my anxiety.  What goes through your mind before a race, or when you're about to throw yourself down a hill?
Charlie: To tell you the truth, when I first get to the top of a hill I think to myself "who the hell do I think I am throwing myself down something so crazy!" but then as soon as I get off the push it just comes right back to me. I can get really competitive and nervous when racing but I found the best thing to do is just to try and relax and not think about it. By doing yoga or even meditating a bit, and not pressuring myself to win, I can focus on having fun! On the starting line, I'll try to dance around and have a good time, and try to think of it as "just another run" not a race heat. That way if something goes wrong, I won't beat myself up at the bottom.
I'll keep that in mind next time I feel nervous at a race, keep calm and have fun!
Diane: How long has it taken you to build up this confidence??
Charlie: When I was 12 years old I got my first skateboard, and with that came a whole world of freedom and independence. When you know nobody is there to scrape you up off the pavement when you eat shit, you just have to do it right the first time or pick yourself up and keep going. A lot of it is, truly believing that everything is going to work itself out. Whether you're in the middle of nowhere hitch hiking in the rain and it's getting dark, playing music on stage and forgetting that second verse, or bombing a busy highway and your leathers bust open in the front! I just tell myself that I'll make it through, because I have to.
Diane : Fantastic! So you've been a brave one right out of the package eh! Hitch hiking to get to races at such a young age! Where's the furthest you've hitched to get to a race?
Charlie: In April 2011, my friend Renee and I hitched from Vancouver BC down the west coast to California and then over to Albuquerque New Mexico for the "Ditch Slap" race, It was awesome! I got tons of road rash, had my first experience with heat stroke, and learned about electrolytes! You get really close to someone that you travel with, it's not always easy but as long as you're light hearted when things get tuff it's a blast!
Diane: When did you feel most scared, and how did you relieve that anxiety? (Doesn't have to do with skating)
Charlie: One of the scariest things I've ever done is race Mt. Washington in the pissing rain and hail going about 90kl/h! By the time I got to the bottom, my anxiety was gone. Hitch hiking in Mexico was pretty scary sometimes too. We would ride in the back of trucks, completely open! They would drive like crazy, and I'd just have to hold on for dear life. Sometimes things are so scary that you don't even realise it until it's over, then I just get stoked!
Diane: Have you done any other barefoot bombs than cypress? What convinced you to do it?
Charlie: I like to skate around barefoot but Cypress is the only bomb I've done. I guess I like to do things that other people haven't so I can say I did it! I believe that anyone can bomb anything because you can always skate as slow as you want and once you overcome something intimidating it just gets easier and easier. I apply that to every aspect of my life.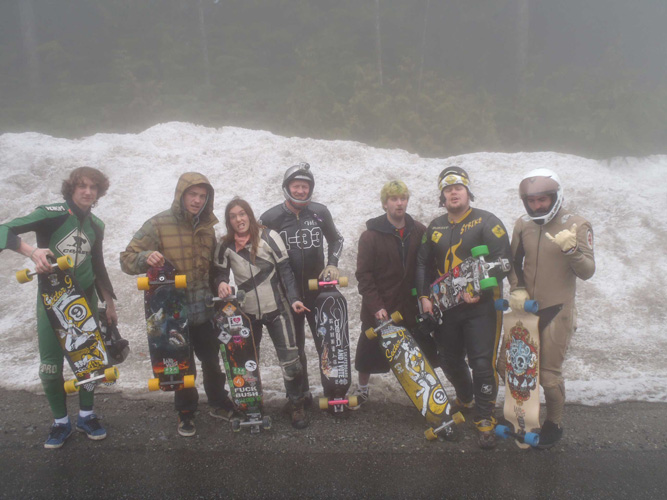 Diane: I can relate to you when you said that you want to do things that no one's ever done before! Being so small, it throws people off guard when you tell them you downhill skateboard!
Charlie: Yeah, I call it little girl syndrome. It sucks getting hurt on the hill. It can be hard to just brush it off and keep having fun especially if you're doing well, but that's racing shit happens.
Diane: Who was your first sponsor?
Charlie: I was sponsored by lots of people in the coast community over the years like Schnitzel ,Wes, Bricin, and Grizz. Sometimes I'd just show up to races and go around with a hat during registration and every one would pitch and help me pay my entree fees. The first company to sponsor me was Dregs from California in 2011, and now I'm sponsored by Bustin from Brooklyn New York.
Diane: Who is your dream team?
Charlie: I can't really answer that because there are too many people to name. But the coast family is my favourite team and it's a dream to be a part of it! ☺
Diane: Where would be your dream skate spot?
Charlie: I dream of skating every hill, park and race I haven't yet and also the ones I already have! I love it, I can't get enough! Every time I get on my board it's a dream come true.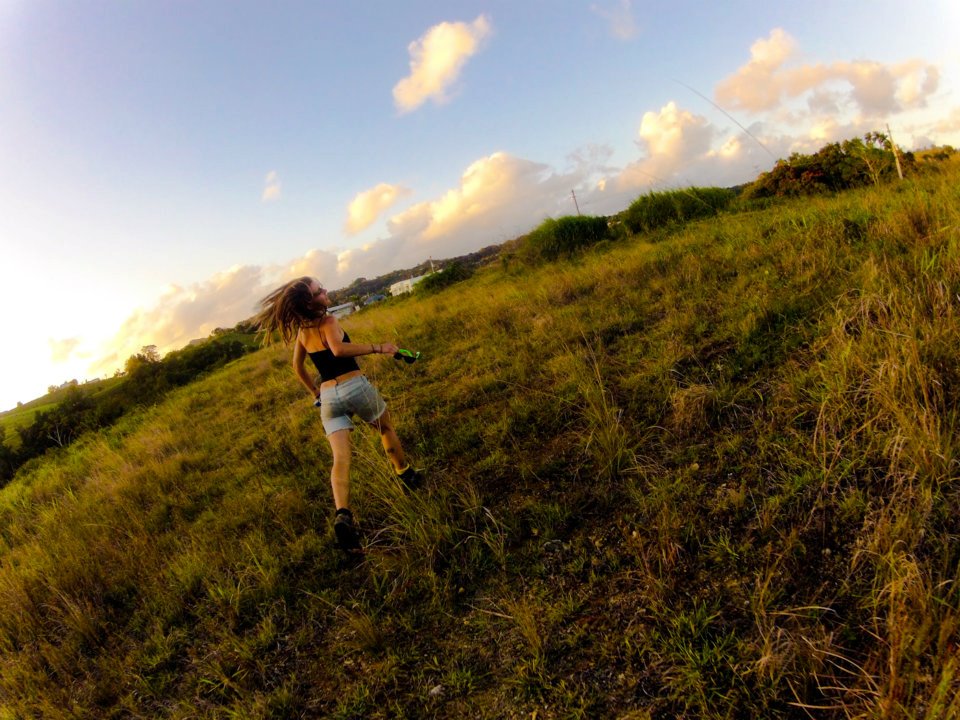 Diane: Anybody you'd like to thank for getting you where you are today?
Charlie: My parents for getting me my first skateboard and being supportive, team green for teaching me how to downhill, Bricin Lyons for motivation, all the coast ladies for being awesome, the coast old men for their support, and everyone else for that matter!
You're an inspiration for me personally, and everyone reading this article! Just goes to show, no matter how small, it all depends on the size of your heart, and you can achieve your dreams in anything you do! You just have to put your heart and soul into it! Believe in yourself, you'd be surprised at what you can accomplish!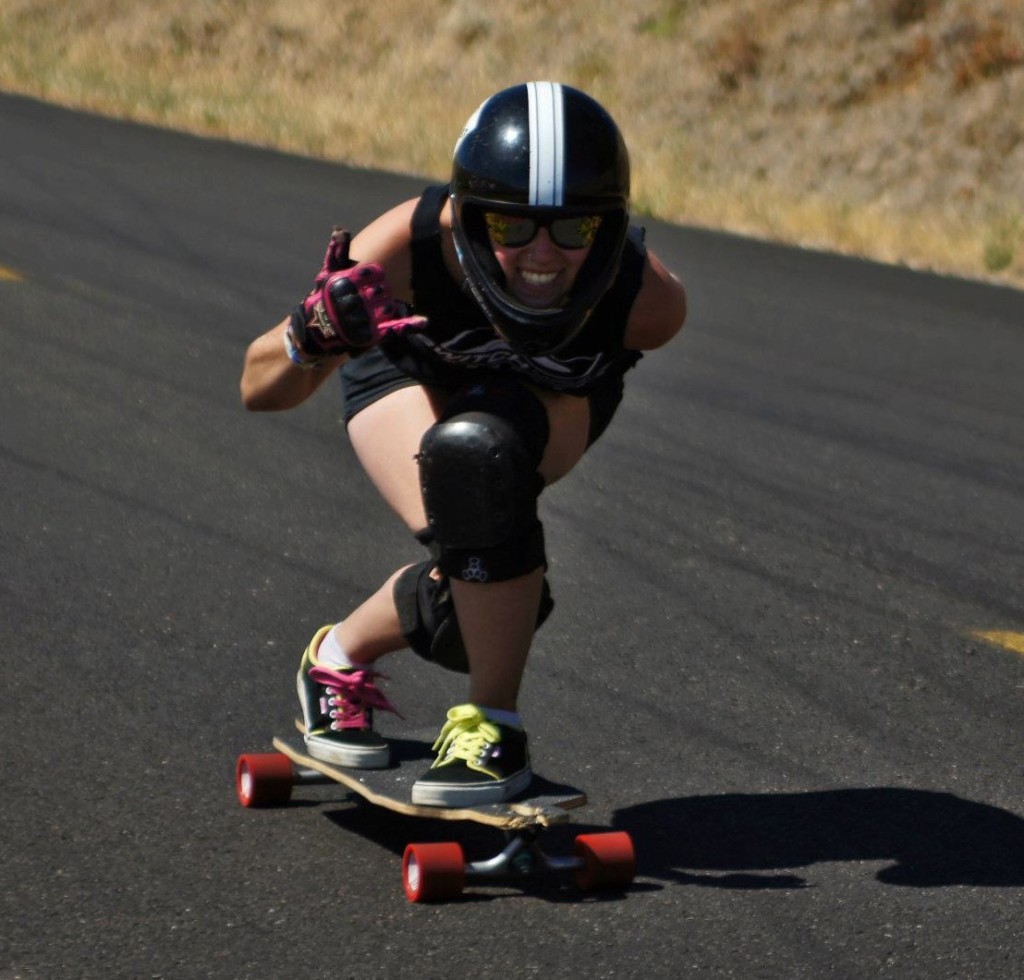 By Diane Hiebert (Dizzy Jane)