Aloha to all Wahines! Three months ago I stepped on a plane to follow my dreams, which was to move to Hawai'i, learn how to surf, to start my progression with longboarding (DH och dancing) and to become inspired for my art. The contrast from the Scandinavian, dark and cold winter, to the sandy and tropical Hawai'i has been intense and lifechanging.
Three months is a pretty long time, but in "Hawai'ian Time", where everything is taken as it comes and all in good time, the days melt together.  From the moment I walked off the plane and on to Hawai'ian soil, I felt it in my heart that I had come to the right place. Since then it has been an adventure, to say the least. Without even planning what, when and where I was going to stay or start on the Hawai'ian Islands, everything has come together in the best possible way. The people, the food,  the different lifestyles  the history and culture, not to mention the nature, that Hawai'i has to offer is mind-blowing.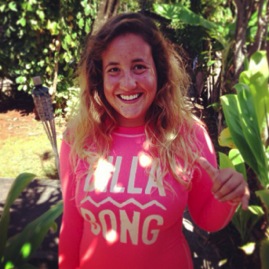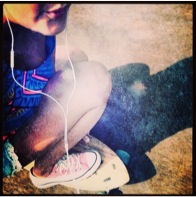 I am sitting now in my livingroom, scracthing my head and feeling all the sand in my hair, from surfing and swimming all day; trying to figure out where to start with this journey. Yes, I have surfed! It took me awhile to really get going with it, because I went travelling alot and sometimes I'd be hiking or not near a beach. But now, with some patience, I have found a cozy little unit to live, right by the "Seven Mile Miracle" on the island of O'ahu, the infamous North Shore. It's where the surf gets crazy big during wintertime and where some of the best pro surfers grew up.
I've totally adapted to the surfing lifestyle, even speaking in surf lingo; "that's so gnarly, brah!" (Can't say it's supercharming) I've been surfing almost every single day, starting with a 10 foot (3 m) board that I get to borrow. When I first got here, the waves where pretty big, the currents strong and I didn't trust myself swimming. I love the ocean, but I didn't want to risk it, since the lifeguards where resquing tourists constantly. I didn't want to be one of them "kooks", as the locals call people who come here, thinking they can handle anything, but really don't know how much water they're really gonna get over their heads. Eventually the surf season dies down (end of march) and the waves go flatter, so there is less people in the water. I made friends with a guy who rents out boards at the hostel I stayed at, so I started going out with him and the tourists he would hold lessons with.

When I'm not in the water, I take my bike down to the famous surfspot "Pipeline" and watch as locals and pro surfers catch these 'sick' barrels. The new dream, is to one day surf those waves. They are a force of nature, believe me! I've learned, that surfing some of the spots here, you can really prove yourself as a surfer. But all in good time, I'm still learning how to stand up for most the waves. One wave at a time!
There has not been alot of skating or longboarding going on. I brought with me my little pink Stereo board. But it's pretty much useless on the roads here. The biketrack along the North Shore is in such bad shape, with cracks and potholes, that I really need to get ahold of a longboard with big wheels. There is also a skatepark a couple blocks away, but it's only one big bowl. I've seen people shredd it when I pass by, and then I bike back home to grab my camera. But when I get back it's too late. Since it's so hot here, most people skate during the later hours before the sun sets. I need to time it better!
When I went to the island of Kaua'i, I got to borrow a longboard and for the first time, since I don't know when, I got to just cruise! It was just insane how beautfiful the path I skated was. I tried to work on some dancing moves, but still there is a little fear blocking my potential. But just cruising was a relief and I need to figure out how I'm gonna motivate myself back on the North Shore.
I have gotten in contact with a crew, but since I've been traveling or busy getting into the scene here, I haven't really followed through at meeting them up. At this time I have gotten a place to stay, but I need to find a parttime job to make some sort of living as well. But also, to find this routine of work,surf (eventually skate) and art. It's not going to be the same lifestyle as in Norway or Sweden. Which I'm so down with! So far so good. But all I know is I'm still stoked on making everything come together. Just that I'm here makes me have a silly smile on my face, when I realize it!!!
What I've fallen in love so much here, is the surfculture. It is so sacred for people, and everywhere you go, there are surfboards on every car. Or you see people along the road, walking to the beach, ready to shredd. It's like going to the bathroom, or eating, or breathing for them! They just need to do it, or they won't function. I went to the bank the other day and the accountant next to me started talking to the customer, that he didn't know, how the waves where and they kept talking about it for like ten minutes before even getting to the business matter. It was just so interesting! Definatly a way of life, and that's what I came here for. All I need now is to get my own surfboard, longboard and a job. KOWABUNGAH!
Lorenza D. Walker