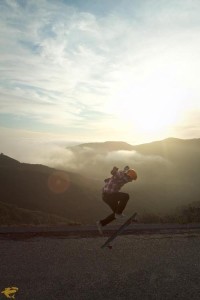 A couple weeks ago, I walked into the skate and surf warehouse I've been frequenting in Southern California after lunch and was told I was blowing it, because I'd just missed Hannah B, the local female board maker.  WHAT?!?!?  I looked her up, and I found this picture of Dane Webber by Ari Chamasmany on her blog, so I contacted her immediately to come back.  She doesn't really have too many pictures of skaters on her blog, mostly pictures of her boards and the process.  Pretty rad to see my homies in charge of the few skate photos that grabbed her attention.  Not to my surprise, it's true.  She's awesome.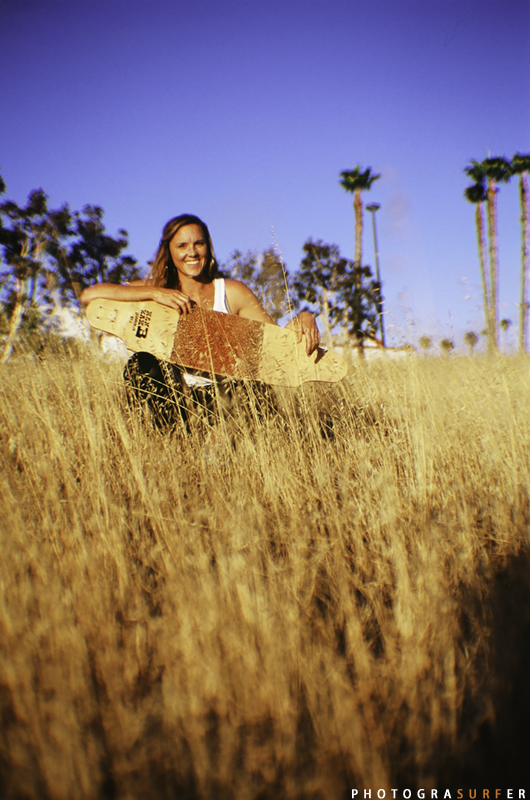 Daisy: I'm not sure what to ask you because I don't know anything about making skateboards, so I guess I'll start by asking, how did you learn how to make skateboards?
Hannah B: Well, I guess some might say I'm self taught…but more like internet-taught, haha. I learned all the basics from online forums and youtube videos. But really after you make a few boards, your own screw-ups become your main teacher.  A woodworker friend once told me, "It's not how good of a woodworker you are, it's how well you fix your mistakes." Also, I grew up in a house with a Dad that was always making things.  My number one job as a kid was to help my Dad while he was either fixing something or building something.  And let me be clear, by "help" I really mean "here Hannah, hold this".  It sucked.  Spending Saturdays holding a box of nails, but, it's clear to me now, that while I was busy being bored, I must have picked up a thing or two about woodworking.
D: Did you grow up in Southern California?
H: No ma'am, I didn't grow up here.  I grew up in Knoxville, Tennessee.  I've been living in Oceanside, California for almost nine years now.  My (now Husband) Jeff and I packed up his tiny Honda Civic  and drove from Tennessee to San Diego.  We were jobless, penniless, but hopeful. We ended up getting jobs and got our first place in Oceanside and have lived here ever since.  We love it here, Oceanside is home.
D: Excellent.  Many of the best east coasters seem to make it west.  How long have you been making boards?
H: The first board I made was in early 2011.  It was a surprise for Jeff's birthday. I built him this board…flimsy board, trampoline-of-a-board…he was stoked, I was stoked and so it began.  Soon after I built myself a board (I couldn't let him have all the fun without me).  Built a couple more for friends and it's grown from there.  Really slow going for the first year or so because I had a full time job, but in July 2012, I quit my day job and now I build boards full time…woot!
D: Congratulations on quitting your job.  That's always so exciting for me to hear about.  It's a game changer, a life changer, even though sometimes you have to rough it for a while.  What did you have to sacrifice in order to follow your passion?  Who supports you along the way?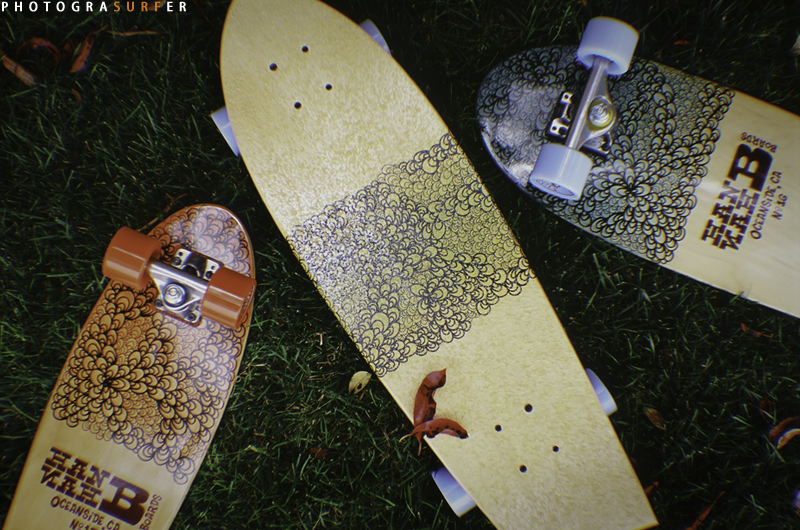 H: Thanks! And you are right, it is a total game changer. One that for me, needed to happen, I was so over the corporate/cubicle life. Hmm, sacrifice…well I guess I don't see it as sacrifice, mostly just a major lifestyle shift.  The biggest shift is that my household went from two incomes, down to one. I'm now totally financially dependent upon Jeff, which is weird.  I still haven't settled into that idea just yet.  But really I'd be a spoiled brat if I said that was a sacrifice…in fact it's the complete opposite, Jeff gave me the the choice to quit my lame job and now I am FREE…broke…but free!! There has been no shortage of support.  Obviously, Jeff has been my #1 fan in every way.  I'm so lucky to have someone that believes in me as much as he does.  Also, my family and friends have been great.  They don't know it, but they are part of my marketing staff…out there saying nice things, riding my boards, getting the word out about what I've been up to.  And I think it's working, just look, I'm getting interviewed by Daisy from LGC!  Did my Mom call you?  haha
D: 🙂 How many women do you know of that make boards?
H: I don't know any! I'd like to though, I'm sure they are out there…somewhere 🙂
D: Would you like to get in contact with other women board makers if any are reading this?
H: Heck yeah!  Let's make an all chicks board builder collective!  Wow, that would be rad.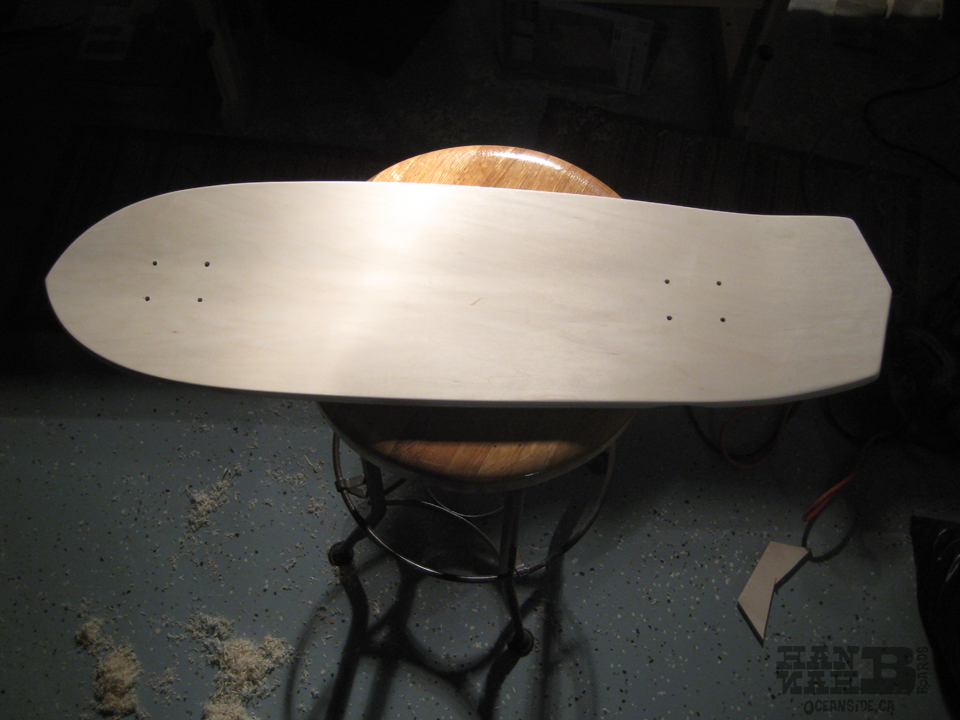 D: Do you identify more with the surf or skate community? H: You know how it is, skating and surfing have such a long history together, that for me the "communities" are often the same or at least have a heavy overlap.  But the amount of time I spend in the water, it's only fair for me to say surf community 🙂  I got the surf bug about five years ago…I got it bad and it hasn't let up since the day I hit the water.
D: Have you ever made a surf board?
H: Yes, I have.  But the crazy thing is, despite my surf-obsessed-bug,  somehow, shaping a surfboard didn't stick.  I just didn't have the love for it like I thought I would.  A couple of years after shaping a surfboard is when I built my first longboard deck.  There was something about building that skateboard that got me, got me the way that surfing got me.  Maybe it's the woodworking aspect of it, maybe it's that I can build it 100% myself, artwork and all that got me, I'm not sure, but skateboard/longboard building is it for me.
D: Rad.  Well,I think it's important to both find what moves you as well as to help others find movement.  I'm sure as a skateboard maker you will be helping some souls find the water, and if they don't make it to water, at least they get to feel it on land.  Are you mostly making boards for cruising around town or for people into the sport of downhill skating and freeriding?
H: The majority of my boards have been built for cruising and/or carving.  The reason for that is because those are the boards that my customers have wanted.  I have built a handful of freeride boards and have gotten some good feedback about the shape. I'm kinda itching to build a downhill board though.  I need to get talking to some downhill riders about preferences and technical details of downhill boards so I can build it accurately.  Seems like part of the hannahB. boards evolution.  I don't want to be put in a "cruiser only" box, I just haven't gotten there yet…soooon.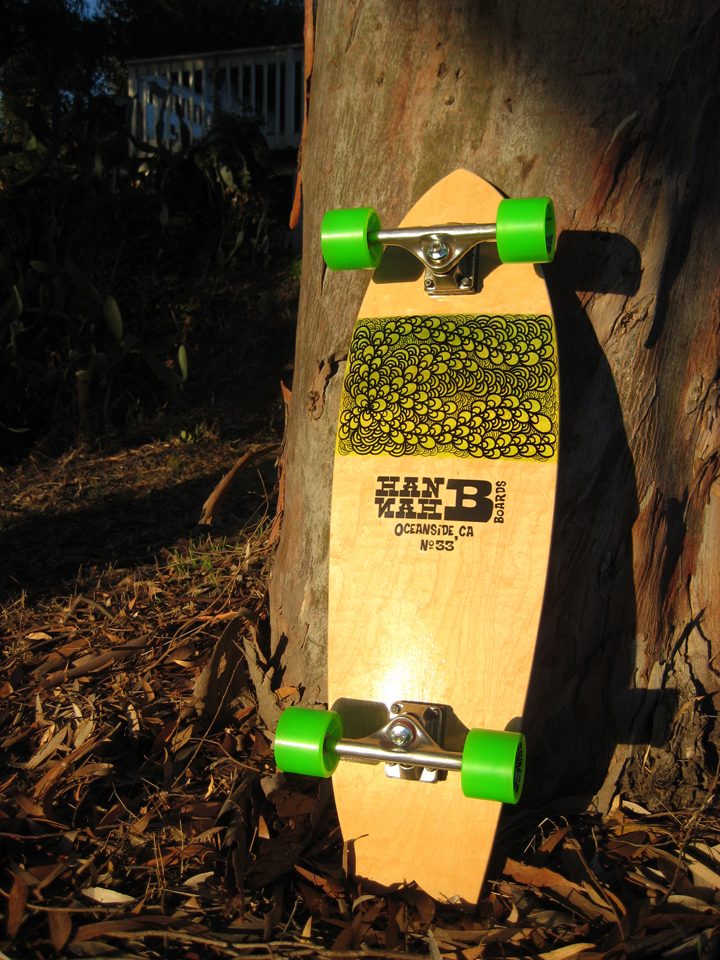 D: What materials do you use in your boards?
H: I use Hard Rock Canadian Maple.  As for the artwork, I use a combination of dyes, inks, and paint markers. I like to experiment, so, odds are good that this will evolve as I go along.
D: Have you been woodworking using tools for long?
H: No, not really.  I mean, growing up with Mr. Fix-it Dad, I've always been comfortable using tools and trying new things.  But, actually using them on a regular basis, that's pretty new.
D: What is the most difficult aspect of board making for you?
H: No doubt about it, the layup/press part of every board!  I have to take seven layers of maple (sometimes nine), apply glue evenly to BOTH sides of each piece, lay it all on a foam mold, line it all up, vacuum all the air out in about 15 minutes!  Okay, maybe that doesn't sound like that big of a deal, but I tell you what, when it's layup time around my shop, it's like full Tasmanian-devil speed by me to get it all done.  The glue will start to set in that time, so the board has to be bent around the mold by the time the clock runs out or you run the risk of delam and loss in structural integrity of the board.  And if you don't make it by the time the clock buzzes, that board is a total loss…no pressure, no pressure 🙂
D: How many boards do you make at one time?
H: I can only press one deck at a time, due to the glue drying time. But I have two presses and will usually try to have both presses going at the same time.  It's good for me to have at least two-three decks to be working on at the same time. That way, getting all of the necessary tools out for each task is more worth it, time-wise.  I certainly don't run a fast-paced production line.  But I pay a lot of attention  to detail and they are all built by hand.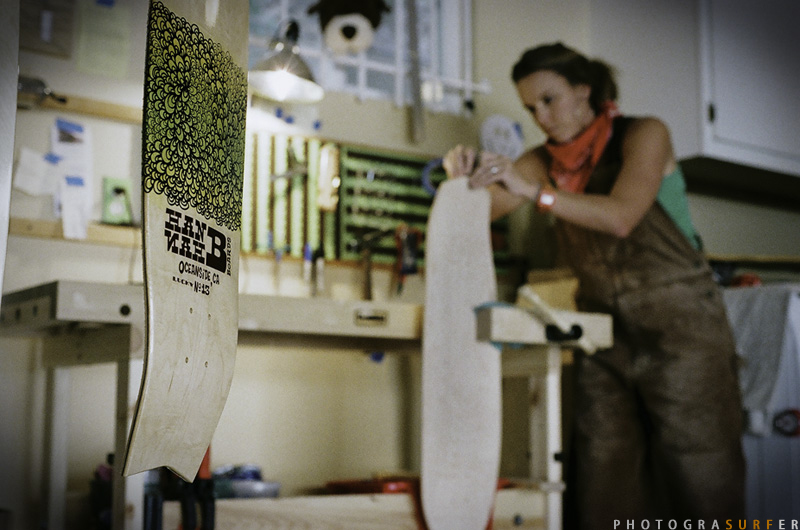 D: 
Who does the artwork for your boards, and how is it applied?
H: I do all of the artwork.  The customers will choose the color(s) and then I go from there.  My colors are either dye or ink, or a combination of both. The black line work is drawn on by me with paint markers, none of the artwork is decals.  I strive to have my boards look like they are clearly part of the same collection, with the same style, yet each one being totally unique and one-of-a-kind. The artwork is also one of the things that is always evolving.
D: Do you whistle while you work?
D: How can someone see and purchase your boards?
H: My blog is a little window into my workshop, it's the best place to see what I'm up to and check out my latest boards,  hannahbboards.tumblr.com/ I have an Etsy shop too, www.etsy.com/shop/hannahBboards . It's a good place to shop for a deck that is ready to go.  Sometimes I have completes on there, other times, just decks.   I don't keep a ton of boards there because most of my boards are custom orders, which I love to do for people!  If a custom is more your vibe, just email me or facebook me: hannahb.boards@gmail.com facebook.com/HannahB.Boards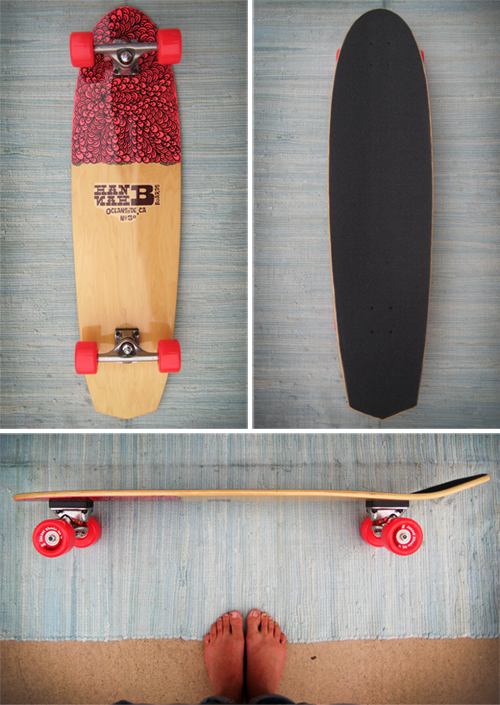 D: Can't wait.  One last question before we go, I want a glimpse into your window of completeness. How does it feel to know that people are out there, going through everything that skating is for the being on something that you created with your own mind, body, and soul?
H: Of all the rewards that I receive from board building, the knowing that a rider is experiencing joy because of something that I created with my own two little hands, is an amazing feeling.  That is THE reason that I am excited every time I build a new board for someone.  Knowing that I might have a small part in making their day better, making it more fun, making it more exciting…well I win, I'm the lucky one…thanks for allowing me to be a part of that.
D: Anyone you'd like to thank?
H: My number one dude of course, Jeff, he rocks my face off.  My creative parents for letting me stand around and hold stuff, I'm now a master.  And all of my surf buddies, between waves, they've heard (in excruciating detail) about all of my ups and downs with my board building adventures and have helped me so much along the way. And you Daisy, thanks for chatting with me, it's been fun!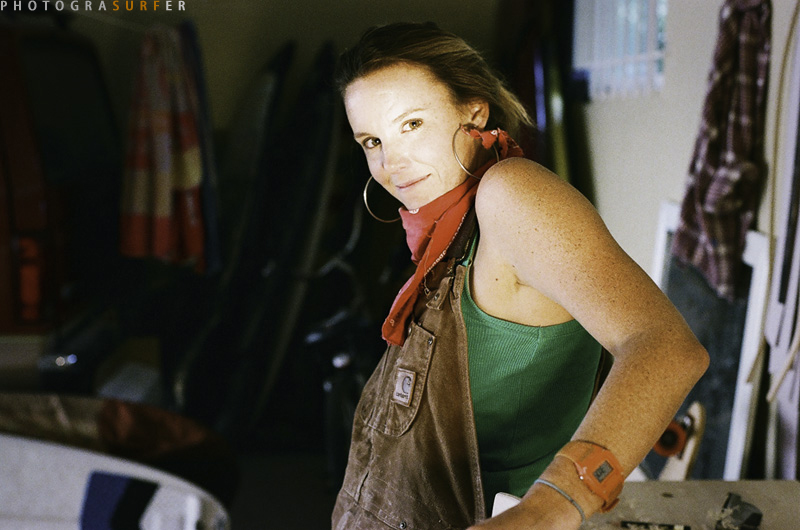 D: Awesome Hannah!  It was so great to see you around Gnarlywood.  You'll have to come in and show me your boards in person, I can't wait to ride one!  
H: Yeah, it was great for me to be there.  It's nice to be in a place and around people that are as excited about what skateboarding/longboarding/surfing can be, as I am.  I could feel the energy floating around that place.  By the way "Gnarlywood" = best name ever!  I'll swing by soon with a few boards in tow and we'll hang out.
D: See you soon, Hannah 🙂