Jakarta Street Bomb is a Longboard & Skate event taking place tomorrow, January 8th, which has been organized by Longboard Girls Crew Indonesia along with Indo Longboard, Senayan Skateboard Gate 1, Jakarta Longboarders and L.A.K.A Bandung.
Created with the idea of making an event "from us, by us, for us", Jakarta Street Bomb may become the biggest Indonesian longboard event to date.
We're expecting almost 50 Longboarders may come, this is a lot for us. This event will be held on "Car Free Day" which is a bi-weekly scheduled program from the city administration where they will close the main road of Jakarta. The contests will take place on Jakarta's Landmark, Semanggi Bridge.
Yona Yunistia – LGC Indonesia Ambassador
Event Abstract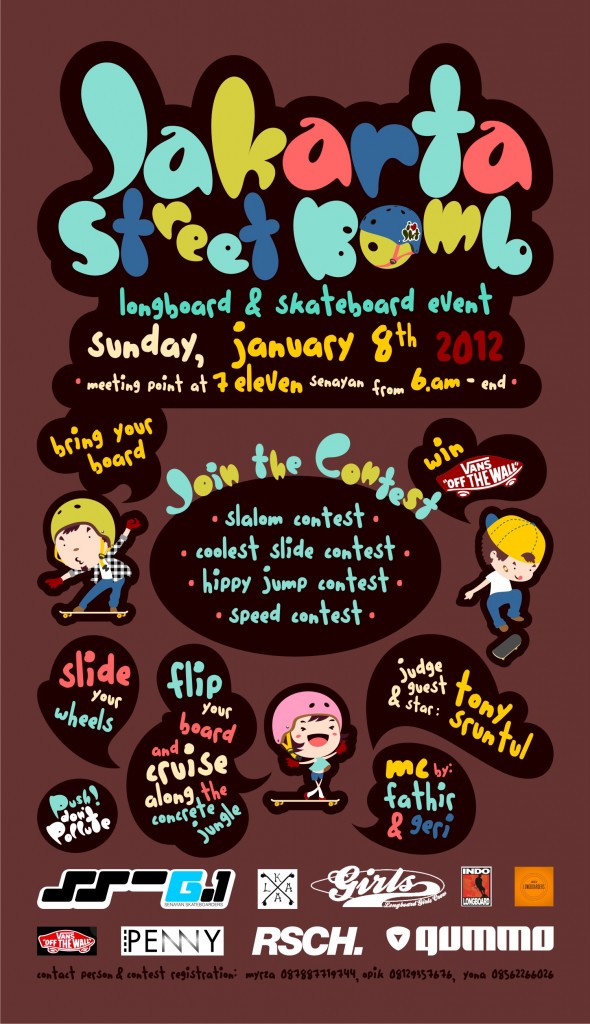 When?  Sunday – 8th January 2012, start from 6.00 am – end.
Where? Meeting point at 7eleven – Senayan.
Activities – Slalom contest – speed contest – coolest slide contest – hippy jump contest.
* Update. Prize: VANS shoes. – Grand prize is sector9 board,Roxy board, quiksilver board, puppet board, and also vans shoes, gummo shoes, and many more…
Judge: Tony Sruntul.
MC by: Fathir & Geri.
DONT FORGET TO BRING YOUR HELMET! safety first! 🙂
Follow us on Twitter for more quick update: @JKTStreetBomb