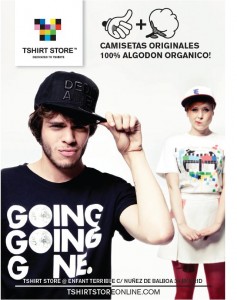 In today's society, tendencies from the fashion world and numerous trends from different street cultures are mixed at a furious pace. This means that there is no longer a single dominant style, instead thousands of different styles overlap and people fit in one or another, depending on the occasion or mood.
As a fashion item, same is happening with t-shirts, there are many styles coexisting although it's a garment that, everyone would agree, goes beyond merely fashion. T-shirts can be statements and express what we are and what we like or dislike!. When we wear a t-shirt, we are letting people know a little bit about us and thus, when it comes to buying one the decision shouldn't be based solely on aesthetics but on what that t-shirt expresses. Fortunately, we can find a few brands who understand that perfectly and are committed to provide cool t-shirts with additional values. This is totally the case of the Swedish TSHIRT STORE that has recently opened a shop in Madrid and which we had the pleasure to visit some days ago with our friend and photographer Quique Ballestero.
Founded in Malmo Sweden in 2006, with stores all around Scandinavia, Uk, China, shortly new openings in Germany, Italy , Japan and now also in Spain. TSHIRT STORE is a new store concept dedicated to t-shirts, a brand that has taken a step forward, created to "fight the standarized offerings from the multiple retail stores and abundance of souless fashion brands".
WE LIKE TSHIRT STORE for the great job this brand is doing supporting novel illustrators, designers and graphical artists from all around the world, creating an international platform for modern t-shirt designs. It's also one of the few brands who can claim that their products are made with 100% organic cotton using methods and materials that have a low impact on the environment having a fair trade certificate which proves that sustainability, good quality and reasonable pricing are not incompatible with fashion.
If you are a designer or a t-shirt's fan…what do you think about becoming part of TSHIRT STORE ? Check out their facebook page!
**Post Update!
TSHIRT STORE  Fun & Fans promotion for LGC
Introduce the Discount Code:  "LGC" and get 2 Standard t-shirts for 35€. (Shipping costs not included)
Use the discount as many times as you want! Applicable for the purchase at the online shop (http://www.tshirtstoreonline.com)
Valid from 21/12/2011 To 4/1/2012  (2 weeks promo)
For those living in Madrid, you can also enjoy of this promotion if you go to their store located in Nuñez de Balboa St, 30.
[portfolio columns="3″ category_slug="Tshirt Store" /]