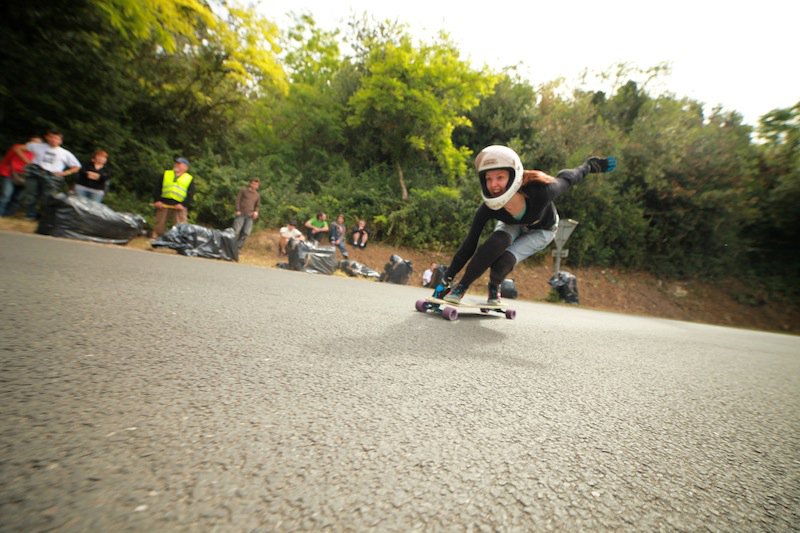 Marie Bougourd (AKA : Spoky Woky) is one of the best DH female riders at the moment, she's 3rd in the 2011 IGSA ranking. 
We had the pleasure to speak with her and ask her some questions about the DH female scene. She's a  great inspiration for many girls out there and we're sure you will enjoy this interview as much as we did doing it!
When did you start longboarding? Did you skate before picking up DH?
I started longboarding in 2003 with my cousin in  Normandy. I had never skated before but I liked it immediately. When I started,  I became  part of the local association called "Riders en Bray" , they are still a family to me , we don't see each other only for skating, but also for family events, parties…
For how long have you been racing? Was DH the reason why you started longboarding or you fell in love with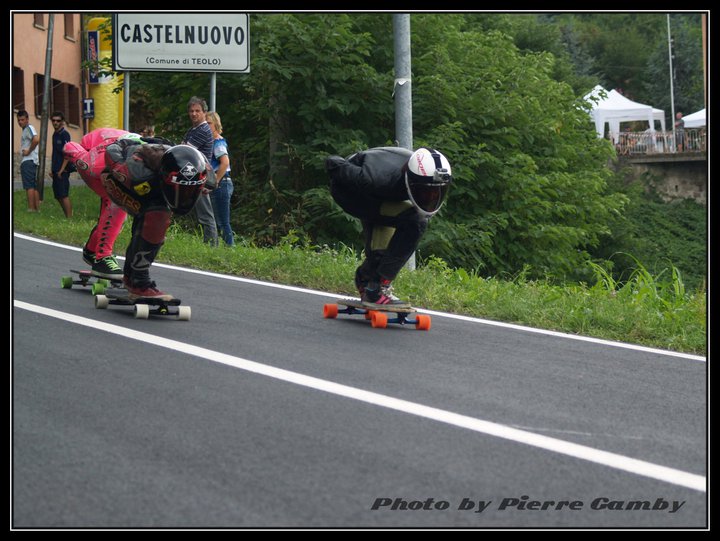 it later ? 
I have only been racing for the past two years. But I did some french races back in 2006 and 2007. Back then the number one female racer in France and in the world was a very nice lady called Angelina Nobre. She was a pioneer on female DH and ripped everything in many categories. I didn't enjoy those races much  because she was far ahead of me and the others were far behind. I didn't have as much fun, even if Angelina was an awesome person who was always trying to help me improve myself.
In 2009, I saw a lot of races report with a lot of new girls on the tour. I really wanted to meet them so I went where they were : to the races. I went for my first 2010 IGSA race, There  I met Brianne Davies , her friend Dominik Vukorep and got better.  So, this year I did the whole Euro tour and it was great ! There were many more girls than the previous year, a better level, I was totally amazed ! I keep all of them in my heart:  Rebekka , Katie , Tamara and Fee who did the IGSA Euro trip this summer.
And yeah, I began with DH, there wasn't anything else but DH before, at least in France. I didn't even know how to push my board and I was already trying to slide. I used to put my board on the road , my both feet on the grip and say to myself "let's go!!!".  In 2003 the push culture and the dancing were not that popular in France . It began in 2009 when Adam Colton's videos were everywhere on Youtube, so  I only really learned to push my board when I moved to Lyon in 2007. When I saw someone on a longboard 3 years ago, I was sure he/she was someone from the downhill family. Today things have changed, a longskater doesn't even know that we can do downhill with a longboard, and that is ironic, it really makes me smile.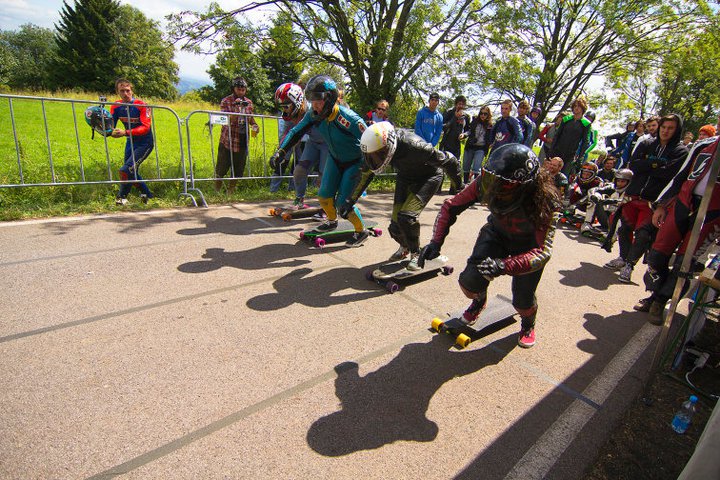 How do you see the DH female scene, do you see more girls? How much would you say it has grown since you started?  
During the past seven years I saw the amount of female riders grow as much as men. However, I assume that we will always be outnumbered by boys and it will stay strongly a men's sport. However, today happily we can see more girls out there riding and one day, sooner than we expect it, we will have some events just for us. I like to ride with the boys, it's amazing because their ride is more intuitive and they try things that girls would never dare.
How much it has grown? I don't know. I think that we have the impression that there are lot more girls but is fairly recent and we have a long way ahead.
LGC's creation has helped us communicate with each other and that helps a lot.  But, for sure in a year from now, there will be  more girls appearing on the board scene. LGC is  giving girls the confidence to  see other girls practicing. That's what LGC is doing : connecting girls between themselves, and make them feel more confident and stop being shy.   On Downhill  women need still  to lose their fears to speed, and that takes  time, get coached and find a nice team to ride with!
What is the maximum number of girls you have been competing with at the same time? Do you think it will keep growing? 
It was at the Insul Cup 2011. I had never seen so many girls before on a race. We were 10. Neilson Katie CAN , Engstrand Kristina SWE , Kornieko Dasha CAN ,Gemperle Rebekka SUI, Bougourd Marie FRA , Jaakola Hanna FIN , Prader Tamara SUI ,Kupsch Gloria GER , Kaske Anne GER , Liebing Fabienne GER .
I hope it will grow far more!!! If we are 20 on each race we will have a real Women Category. If that happens we won't hear again : "Girls are here for posing" .. NO! we are competitors, like men, with the real desire to participate in competitions and have our places on races.
From all the circuits you have raced on, which is your favorite one and  why?
My favorite track is Kosakov. At each finish at the bottom you can just say :" wow!!!" , two straight lines over 90km/h , many turns ,powerful breaking.  In comparison, the others races look a little bit boring compared to this one  
As the saying says " No pain, no gain" what has been your worse fail? Any remarkable injuries?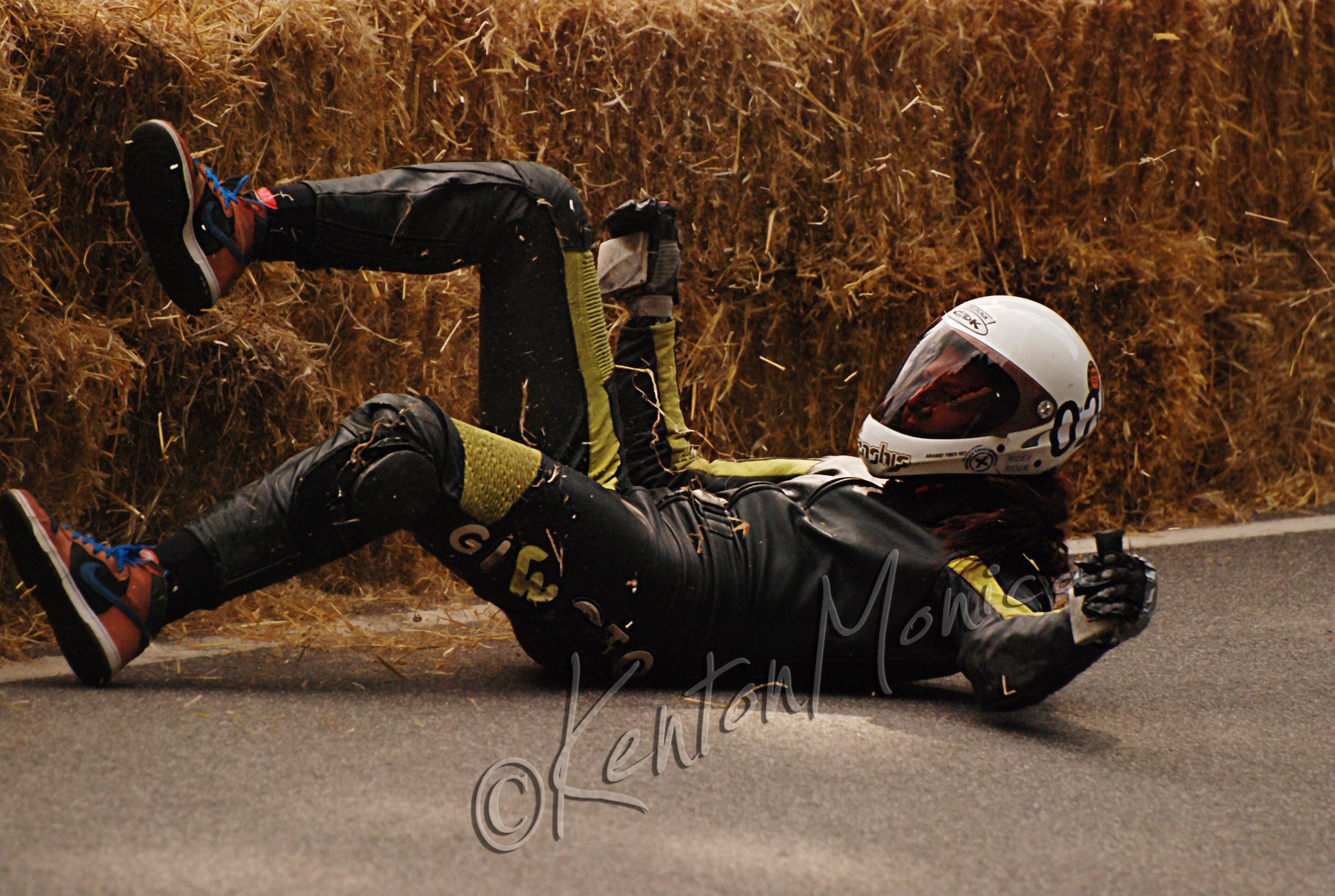 I had many crashes but no broken bones in seven years (knock on wood!) . I still got scratches or bruises on my skin. Some crashes scared me a lot but finally didn't hurt me. I always wear all my protections when I'm riding downhill. One of the worse was on an open road , I lost grip in a curve while I was going pretty fast.  I hit the bank with my whole body quite strongly and fell in the ditch which was a good meter high. I stayed there few seconds but it fell like forever.  I couldn't breathe or move, friends took me out of this ditch. They pulled me out from this ditch and was able to get my breath back. At this moment I was so shocked , I stopped riding that day and imagined the worst "What if a car was coming"… I didn't get back on my board completely relaxed till the next session…
For many people DH is not just the technical/physical but  mental. Challenging yourself , remain focused and endure until the end at high speed while winding super precise  curves. Have you ever felt this "mental" side of DH? How do you deal with it? Any advise for beginners? 
First, I want to say that you have to master the longboard basics, that is unavoidable. You need to know how to break , how to turn .. ,Practice will be the most important way to be good and keep you safe. After that, the mental factor enters into play, if you know your limits, you know what you can or can't dot. On a race when you compete against "Monsters of downhill" (I'm specially thinking of Christina, Dasha, Rebekka and Katie) you always have to underestimate your opponents and focus on them to go front of the run or just stay in. You have to keep in mind that everything can happen. Then you have to give your best and you will never be disappointed even if you lose. And sometimes when I face a hard time, I  try to rely on others,  they always give me a solution on how to overcome that difficult part of the track.
For beginners I can't impose my point of view sating that is the best. Everybody  has to find his way to trust himself . Often, the girls fear the speed , I can only say one thing : practice, practice, practice, slow first then faster and faster. And when you get better and practice on other spots, come back on your first spot and then you will tell  yourself "When I was a beginner I was so scared here, now I don't even feel it's that fast!".
Anything else you would like to say to the longboarding community? Feel free !
PROTECT YOURSELF !!! I beg you, please . I like to watch the female longboard scene growing  but I don't want to see more drama. So, wear your helmet ! Give the best of yourself in your passion, share it with the rest of the world, the return is so good … I'd love to  travel more, meet and skate with many of you! Stay tuned to LGC , the best is yet  to come !
Longskate Downhill, Women Final , Teolo Padova igsa race from Spoky Woky on Vimeo.
[portfolio columns="3″ category_slug="spoky" /]