Born in Mallorca, famous for her red hair and long socks. Surfs the asphalt with a lot of style.
It has been about 3 years since I first rode a longboard, and when I did, I just fell in love with it immediately.
I've always been attracted to the extreme sports world. I still remember how crazy my brother and I turned when we watched " Thrashin"on TV. I even tried, a long time ago, to street skate but I couldn't move a meter on it.
When I came to Zaragoza for my studies, I started snowboarding and I loved it but hated to wait for the next season to come.
Untilone day, Jorge from lachicadelacurva (local longboard brand) let me try one of his babies and wwwwooooowwww… that was it. I'm hooked up with longboarding and I still get excited everytime I ride my board.
It's been a year since "Girls Can Ride" video, how do you remember that day?
Like …. Yuuuuuuuuuhhhhuuuuuuuu !!!!!! I will never forget it. I always frown when I remember that day, it was amazing! I had never skated with so many girls and that was something very special: it had a different energy, a very good vibe. It was so much fun, I think I've never had so much fun longboarding like that day. I even think I have never had so much fun in my life. And Juan has immortalized it forever! I think we had to get up early enough and I was tired after returning from a surf trip to the Basque Country but to be honest I can only remember the good time I had.
If you had to choose a shooting experience with Juan Rayos, which one would it be: Girls Can Ride, Carving the Mountains or Endless Roads in Mallorca?
How difficult! LOL … It is always a great pleasure to skate with the girls and shoot with Juan, he makes everything so easy, you have so much fun with him. Girls Can Ride was probably the most enjoyable. I don't know if it is because it was the first one but certainly it was magical. In Carving the Mountains I had a good time although l end up with a small "souvenir": I got a gross wound on my leg. Endless Roads in Mallorca was also great. Having the girls visiting my island was awesome. Seeing Marisa's face and Amanda's after descending Sa Calobra and share laughs and laughs with all of them in the van was priceless. I don't know if I could pick one, haha … I'm just thankful for all those moments!
My crew makes me mad of excitement and super proud of the great family we are.
For a couple of years I rode on my own until one day I got in touch with a guy through 40sk8 forum who also skated alone and we decided to create a facebook page so that anyone that wanted to ride would just get in touch with us and could join the family. Today we get together 20 or 30 people every evening at the Expo (spot). We are a very active crew and we try to participate in as many events possible. We also organize surf trips, skate parks' day – trips, we go to the beach together, barbecues …. LOL … we all are a family in every way!
The other day we held a slalom clinic with Danny Navarro and we told the people with only 2 hours notice. I thought that none would come but against all odds, a whole lot of people gathered, I almost cried!
Today will are about fifteen girls and there are more joining every day. I would like that all those who are embarrassed or just that haven't got the courage, to come and skate with us stop thinking about it and come…. I know there should be more out there!
You are "the redhead", "the girl with long socks", we know you get lots of friends' request. You will surely be recognized on the street or asked for weird proposals. Do you have a story you want (or can) share?
It's hilarious when Jose Antonio, my boyfriend's father and owner of Caribbean ( first skate shop ever in Spain) tells me that people come to the store to buy the socks that "Paula wears in the video of the girls". Something that makes me really happy is when a girl tells me that she started skating after seeing some of our videos with Juan Rayos. I just love that everyday there are more girls riding.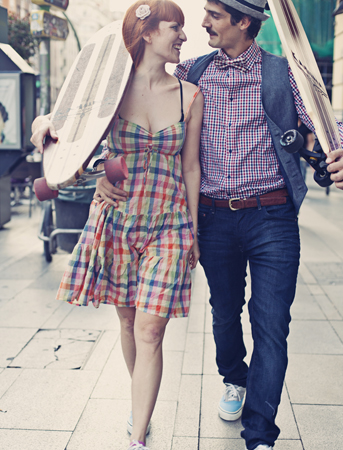 Well, despite your "popularity" you are well committed to your boy, Nacho 🙂 Is skating with your couple any different? How is that relationship on the asphalt?
It's great! We cheer up each other all the time and also tease to see what the other can or can't do. I love how my boy skates and I learn so much from him. Most of our plans are around skating. I guess that would be harder with someone who does not skate. Well, if exchanging clothes with your best friend is fun imagine being able to exchange your board with your partner:). Now that we live together there are at home more than 15 longskates of all kinds, from 57 to 30 inches, four snowboards, a surf board and a ironing board –  the only one we haven't used so far LOL.
Picture by Jorge Fernández de Bobadilla
http://www.lemariagecreatif.com
You are a medicine student, have you taken your longboard with you to classes?
I don't always take it with me because I have nowhere to store it at the hospital but when I take I draw people's attention and occasionally they ask me to try it. One day one of my teachers asked me about it and I had to explain how it works, the type of board it was and encouraged him to try as I do with everyone. And he accepted the challenge yeahhhhh … He skated around the classroom while the students cound't get out of their amazement, I think that even the dead body we were dissecting was freaking out 😉
Do you want to give a message to the community?
I would like to cheer everybody who is interested in longboarding to look for the nearest crew and participate in any event. I'm sure they will be welcomed with open arms. The crew, at least in Zaragoza, will let them test a thousand boards and give them the best advice. There are many people who are waiting to reach a certain level to take that step, and that's probably because they have this mistaken idea that they have to pass an exam before joining a crew or something. Actually the nicest thing is that the crews have people from all levels they can learn from. As for my experience everybody coming the first day who takes that first contact with longboarding goes home with a big smile from ear to ear.
And finally I would like to thank you so much for supporting the sport and the great moments that we had together. Long life to LGC!!


Translated by
 Lucia Medialdea