We have been following her for a while now, posted some videos and pictures in the page, and now we have the pleasure to interview her.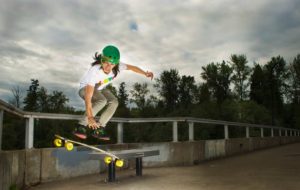 First some short tips about her bio:
Place and date of birth: "I was conceived and born in the great state of Oregon right on top of a skateboard on August 31 1990"
Place of residency: "I currently reside in BOOMTOWN also known as Eugene!! Which is located in Oregon, U.S"
Work/studies and hobbies: "Before long boarding oh so nicely took over my life I finished high school and part of college but soon realized school wasn't for me. I worked random places and did what I could to make rent. When I'm not skating I love to do all sorts of things. Mostly anything involving other sports and being gnarly in any way possible"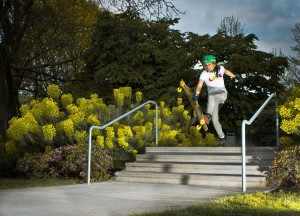 Sponsors: "My current sponsors are Loaded Boards, Orangatang Wheels, Riptide Bushings, and my hometown board shop…Jacks Board House!"
Fav Boards: " I have a couple favorite shred sticks. For some fantastic free riding my weapon of choice would be the LongBoard Larry Double Kick Penguin. When I bust out some fabulous freestyle I dig the Loaded Tan Tien! Anytime I can get my hands on a regular street deck I like throw some tricks down on that as well!"

                               Interview :

How did you discover longboarding? When was the first time ever?
I have been riding skateboards since I was about 6 doing all sorts of things with them. From knocking myself out in a skate park, to shredding some streets to bombing hills. I can't recall how I discovered long boarding, I just remember having some sort of skating epiphany and a strong need for a long board. That was when I was 16.
How would you describe your style?
"My style of skating is like a fun size bag of skittles. The crazy cores flavors if you wanna get specific. It's a small package with a variety of power sliding flavor that bursts and jumps all over the place as soon as you open the bag! I don't limit myself to one style or one type of board"
What is the trick that was hardest to get the hang of it? How long did it take you to learn it? Are you now working on one?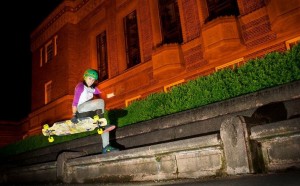 To this day I have struggled with regular kick flips. I still can't do them. I'm never working on one single trick. I mean sure sometimes I'll spend a little more time on a few but I'm so scatter brained when it comes to it I try a bunch of different things all the time.
How often do you skate? How many of those sessions would you call'em training and how many are just for the fun of it?
I skate almost everyday, it keeps the crazies in check, haha just messin.. kinda. Sessions vs training? I just have fun because that's what it's all about. If you don't always have fun when you're on your board then what's the point?
How Loaded/Orangatang contacted you to become its ambassador? Did you expect them to?
It happened a bit differently for me. When I moved to Eugene in March of 2011 the thought of being sponsored was only a dream. I randomly met my good friend Ethan Cochard who was already sponsored by loaded. He saw sparkle and love in my eye for longboarding and was kind enough to make a video of me. "she is risen" was pitched to the team manager and he offered me a spot on the team!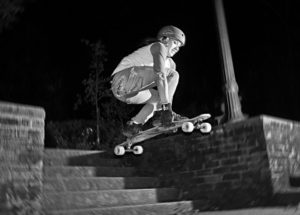 We see "Boomtown" everywhere in your videos and clinics, can you explain a bit what is it about?
BOOMTOWN is the location and amazing group of solid skaters we have here in Eugene. Ethan Cochard, Ross Druckrey, Luke Morrow, Chris Shuttleworth, Josh Henshaw, Alec Whitman, Jaden Chaves and myself. Everyone has a different style and energy that they bring to the crew. Skate sessions are always a blast because someone always learns something new. Progression is what we are all about. The name kinda explains itself. This town is booming with skaters constantly getting better and pushing each others limits.

You did a Ladies Slide Clinic with the Boomtown people, is there any similar upcoming event?
I've been semi brain storming another event to put on for girls, but its so gosh darn hard to actually get em out on the hill haha.
Is there something you want to add/ say to the longboarding community?
To the community as a whole I would like to say keep up the awesome positive vibes!
To all the girls out there, keep pushing yourselves and don't be intimidated by the guys! Don't limit yourself or ever underestimate your ability to progress. Keep it gnarly!
Pictures by Austin D. Coy
Broke and Ugly in Boomtown

Sharp Curves

Carmen in Boomtown

She Is Risen