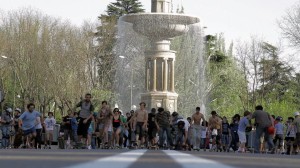 Last weekend, the first Surf/Longboard Weekend was celebrated with much success along with the ART SURF CAMP crew, with whom we're organizing a Surf/Longboard Camp in September in Razo, Galicia, where they have their facilities.
We started Saturday night with a surf dinner at "La Pequeña Bety" in Madrid. Sunday was the massive longboarding meeting in the West Park. Almost 200 riders, all ages and levels, came to the park to enjoy an awesome sun and longboard day. From LGC we want to thank each and every one of you for always being willing to be part of every longboard event, for the support and love you always show… together we're making this sport big.
Congratulations to the winners of the Surf/Longboard Camp that as you already know, we're organizing for September. Stay tunned cause we're setting the date soon. Enjoy the video and ride safe!
Long skate party weekend Madrid from Artsurfcamp on Vimeo.