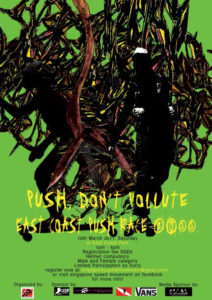 PUSH DON'T POLLUTE AND GRO (Girls' Ride Out)
Thanks to our friends from My Life on Board and Wana Zainal (LGC Asia team member) we have come to know that Push Don't Pollute race organized by Singapore Speed Movement is going to take place next March the 19th.
A 5 kilometer push race with the goal of sharing and spreading the stoke! Competitors from Australia, Germany, Philippines and other countries will gather on this momentous event.
For the second time and within the framework of this event, a Girls' Ride Out (GRO) will be held as well
This amazing initiative is intended to pull all the girls longboarders of Singapore out from their shadows and have fun in a cruising across the city.
According to Wana who is one of the organizers behind GRO "All I want is the girls to have fun and stress-free from their work or school life, which is one of the reasons why they longboard in the first place"
The main idea is to make the Girl crew stronger and bigger in Singapore, spread the stoke and cheer girls to pick up the board.
LGC totally supports this 2nd GRO and invites everybody who is lucky to be in the area to join them. Congrats to the Organizing Staff.
To Register, Email Singapore Speed Movement at singaporespeedmovement@gmail.com
For more information visit Singapore Speed Movement fan page on facebook. Click Here