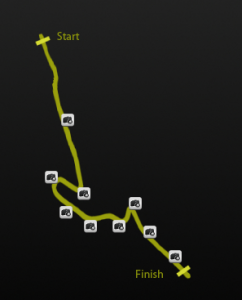 Downhill race & freeride "Kurešček Cup 2011"
Longboard Magazin crew and sports association Drča are proud to announce an upcoming event that is to be the first of many yet to come! For the first time in Slovenia, a downhill race & freeride "Kurešček Cup 2011" is about to take place on a beautiful road on the outskirts of our capital Ljubljana (Slovenia). The track is fun and challenging even for seasoned riders but still doable for those who are still looking to make their way into the downhill community. It engulfs the need for drifting as well as drafting and represents 1 kilometer of beautiful asphalt through the woods. "Kurešček Cup 2011" will take place over the course of two days, with the first one being freeride and the second one consisting of the warm up and a race.
The event starts on the 2nd of April and finishes the next day on the 3rd.
Participation is FREE (registration is required) and the event is promising to be a great one with participants from Slovenia, Croatia, Checz Republic and Slovakia registered so far.
Accommodation is available at the mountain dorm located at the top of the track for 25,00 EUR / night (see the official website for details).
Detailed information and registration form can be found here:
http://www.longboard.si/projekti/kurescek-2011/
The facts:
• Event name: Kurešček Cup 2011
• Race date: 02. / 03. April 2011
• Race location: Kurešček, Ig – Slovenia, EU
• Signup deadline: 1st of March, 2011
• Registration fee: FREE
• Track length: 1 km
• Top speed: 50 – 60 km/h
• Facebook page