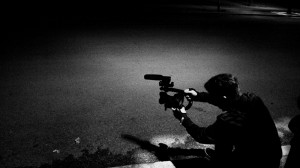 Juan Rayos is the man behind the camera of Longboard Girls Crew video that has been worldwide seen and which has allowed us to be known and spread our motto: Girls Can Ride.
We are his biggest fans, we admire him as great professional and love him to pieces as a co-rider and especially as a friend. Since day one he's been there supporting us and being involved in all our activities and projects.
The launching of the blog is the perfect excuse to get to know him better. He shares with LGC how was it like filming the video and his thoughts about the female longboard scene.
Hello Juan,Could you tell us about you, what you do, where are you from, so we can get to know you better?

I was born here in Madrid, but I lived in Alicante and Valencia, and after that I got back to Madrid…as if I closed the circle. I am a photographer and a producer, and depending on the time I combine or alternate between both activities.
I have been trying surf and kitesurf, but I needed something that gave me that feeling on a daily basis, something easier to fit in everyday life. When I longboard I can escape from reality almost at any time, and you can quickly get to your favourite city spot to surf for a while.
Among your videos we find many about longboarding. What led you to choose that topic? What came first, your love for longboarding or filming videos about it?
Both things came together. I have always been attracted by skateboarding, and once I even thought about working on it on the long term. First thing I thought was that I should learn how to skateboard…or maybe I started to try and then realized that I could skate longer if I focused my work on skateboarding. To be honest, I'm not sure…but I always tried to merge work and passion.
About your LGC video, where the girls only video concept came from?

One day, while I was in Moyano (a longboard spot) Jacky and Valeria came to me and proposed me to make a video with a group they were creating on Facebook, the Longboard Girls Crew. They wanted to shoot a session with smooth cruising through Castellana St. and slides session in Moyano. I thought it was a great idea since I had been thinking for a while about doing a second video like Madrid Longboard and their proposal suited with the kind of videos I was doing.
What about the experience? What did you like the most?
Awesome! It was so fun skating through Castellana almost empty, only for us since we met so early in the morning.
What I liked most? You, of course! and the way you skated, so happy, how spontaneously you took everything, the beauty of all the girls surfing on your boards.
What were the differences between making this video and others you did previously?
This time everything was so spontaneous, of course we joined to make a video, but at the same time it was an excuse to have a good time, to celebrate the role of women in this kind of activities. I guess the fact of being only girls helped you to be more laid-back than usual, as well as reflecting the feeling of the experience quite immediately.
We know you have received loads of comments about your video, on Vimeo and Youtube, even on your personal Facebook profile. Which was the funniest one?
Oh well! it takes all sorts, many guys would like to know you more…let's say more closely. But there are many comments from girls, a recent one that I liked especially:
"be aware. Sofia Coppola will hire those girls for her next film"
What you think about female longboarding?
Longboard is more about feelings rather than tricks, style, flow and plastic beauty on the board count most. These aspects when performed by a woman take a special, different kind of sensitivity.
Anything else you would like to comment about LGC or longboarding in general…?
As more girls join longboard, longboard becomes a richer sport. Everywhere there are girls with their longboards stored at home that have nobody to skate with, or are reluctant to start. Projects such as LGC are boosting women's skating so it turns bigger and bigger.
Thanks Juan, it's always a pleasure talking to you.
Thanks to you for being the way you are, and for giving me the opportunity to be part of your project.
Photo by : Leo Zarate
If you want to know more about Juan Rayos :
Web : Juan Rayos
Blogs: Rayos y Centellas & sk8cinema