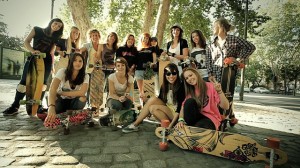 As many of you know, last October 2010 we released our video on the vimeo and youtube channels. It was extraordinary received both nationally and internationally. We have appeared on countless blogs, sites, magazines and news feeds, and have been asked to collaborate on different events. Therefore, as the first inclusion of our blog, we think that it is time for you to know how everything got started and our experience while filming the video.
The idea came alive one summer night in Madrid at our usual spot, Moyano.
Thanks to the video and our Facebook page we are continuously increasing our presence in the skating scene but this was not the norm when we started. Our idea was to make a Girls Only video, something that was missing in the world of longboard and it was time to call out and demand: Girls Can Ride!
At that time we had just met Juan Rayos and his work, which we admired immediately, and thought it seemed perfect for the video. Not only friendships united us, but as Juan later let us know, this was also one of his personal projects. We were delighted, this was our fate.
The most difficult part was to gather the girls. We knew there were many out there but this would be the first time many of us would skateboard together. After weeks of searching through social networks, contacts and even an occasional meet and greet in the street, we came up with 26 girls, but eventually for personal and logistics for the video we filmed with 14 girls. The girls travelled to Madrid from all over Spain: Zaragoza, Cadiz, Basque Country, Palma de Mallorca, Barcelona and Santander.
That day will remain in our memories forever, a memorable morning for all of us. We had to be there at 7:30 am and we were skating until 11:30 am, a hit, considering that the night before we were participating in activities for Madrid White Night Celebration that ended at 3:00 am.
Although many of the girls did not know each other, the connection among ourselves and with Juan was immediate; we had a great time and think that this vibe is noticeable in the video.
The level of skating did not matter. Some of the girls have been skating for more than 10 years and others only months, but all did their best. In addition, the different levels were not an impediment to shoot the video, as one of our objectives was to demonstrate how well one could spend time on the longboard, leaving behind competitiveness and ego, to emphasize the fun and flow.
The result: a beautiful video, an amazing day of enjoyment and true friendship, and an impact that we would have never expected.
We feel fortunate for having created this video that has reached so many people and feel that we have inspired and encouraged more girls to participate in this sport or simply to lose their fear of doing something that they would like to do.
Thanks again to the girls who participated and of course to Juan Rayos for his wonderful work, without him, none of this would have been possible.