LGC-Camps (English)

Longboard Girls Crew is proud to partner up with the best Surf Camps in Spain for the third summer in a row to teach longboarding to all of those who attracted by board sports, want to learn them from experienced members of our crew and federated surf instructors. Whether a beginner or already an experienced rider, LGC-Camps -located in the magnificent beaches of Northern Spain- offer the perfect setting to help anybody with its first steps, learn new tricks and improve riding in a fun, save and easy environment.
LGC-Camps are meant for both girls and boys of all levels and ages. Each camp last a week and is designed for learning and improving in the sport different modalities, being able to enjoy from day one. The atmosphere created at the LGC camps will allow the participants to relax, meet new people, and enjoy the sea and Spanish culture in a very unique holiday.
LGC is completely aware of the importance of safety and counts with the generous sponsorship of Triple8 who is our safety gear provider. The boards will be provided by Rayne. The camps will take place from June 22nd till mid September, on a week rate frequency.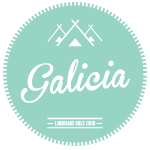 The Art SurfCamp is right by the beach and has everything you may need for a perfect holiday: a recently refurbished hostel with a bar, restaurant, chill-out terrace, mini-ramp and the surf school right next to the waves. For the longboard clases we will move to a nearby spot filled with empty slopes and flat roads depending on the students' needs.
Supporters: